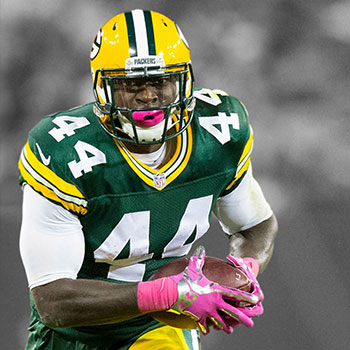 James Starks, 34
MS construction management '18, certification in green and sustainable building '19
NFL Green Bay Packers running back (retired)

After the NFL, a Forever Job
When a concussion from a car crash knocked Green Bay Packer James Starks out of the NFL, he began building a second career around his Drexel degree.
Many professional athletes struggle to transition from on-field stardom to ordinary life in retirement. James Starks, 34, is determined not to become one of them.
The former Green Bay Packers running back always planned for his post-football days. He started an online master's program at Drexel while still playing for the iconic NFL franchise, earning a MS in construction management with a concentration in project management in 2018.
The change I'd most like to see in the world is…
"I grew up poor, so the change I'd most like to see is the community rally around more (and improved) programs for the underserved and underprivileged — better schools, housing and jobs. We are all in this together, so no person should be left behind."
"I knew football wasn't going to last forever," he says. "I loved it, but I needed to think about what I was going to do next."
The sport had been Starks' primary passion in life since he started playing as a 12-year-old. Growing up with six siblings in his hometown of Niagara Falls, New York, was difficult. The family didn't have much and the hazards of poverty were everywhere. But the direction and love of his mother Lillie, brother Sanquin and father figure Ronald Shiesley—along with football—provided a respite. He earned a scholarship to the University of Buffalo, from which he graduated with an undergraduate degree in sociology.
Chosen in the sixth round of the NFL draft by the Packers, Starks started as a rookie in Super Bowl XLV, which Green Bay won. He played in the NFL for seven years, and during the 2016 season, he enrolled in Drexel.
"After I would get home from practice I would knock out my homework. Whenever I had some free time, like an off-day, I would do school work," he says. On Dec. 12, 2016, the SUV Starks was driving was struck by a semi-tractor trailer. Starks, who was wearing his seat belt and did not receive any citations, suffered a concussion. He never played in another game.
It was a tough blow, but Starks was prepared for his post-football life both financially and emotionally. As a kid, he used to help his father build decks, paint and do other home-improvement projects. He likes working with his hands, and he is intrigued by the homebuilding profession.
"I wanted to learn the [business] behind it because I enjoyed doing all those things with him," he says. "I wanted to know how can I run a company? How can I build my company or the Starks brand in construction? When I looked at construction management it had all the things I was interested in, so that's why I went that way."
Starks now lives in Texas, where he's gotten into real estate, buying and renting out houses. But starting his own homebuilding company remains the ultimate goal. With an eye toward that, he recently enrolled in a software engineering program at Drexel.
"When you're in the league everything is given to you," he says. "It's so much different when you're out. Going back to school actually helped me get into the real world." — Mike Unger