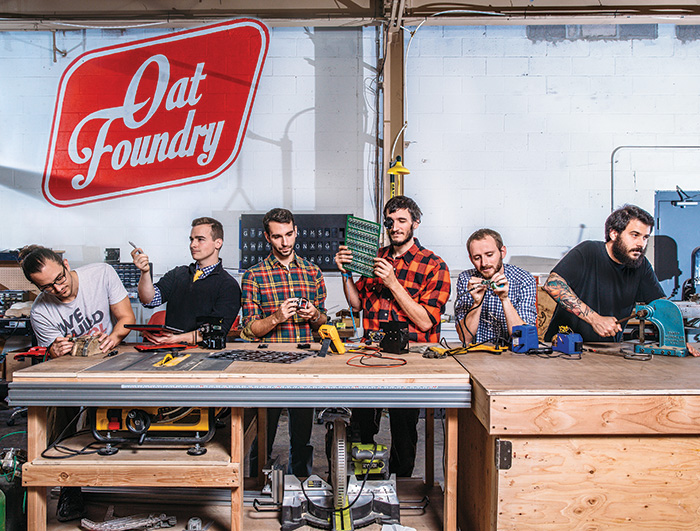 Oat Foundry is Luc Tenthorey, Mark  Kuhn, Sean  Rossiter, John  Halko, Mike  Courtney & James  Vescio
Ages: 26, 27, 26, 26, 26, 27
BS mechanical engineering '13, BS mechanical engineering '13, BS mechanical engineering '13, BS/MS mechanical engineering '13, BS mechanical engineering '13, BS mechanical engineering '13
Co-founders, Oat Foundry
You don't often see brand consulting firms setting up a shop with wood lathes and welding irons, but the six engineers running Oat Foundry have ideas so original, they have to be built from scratch.
It began with a soft pretzel vending machine.
When they were studying mechanical engineering at Drexel, Luc Tenthorey, Mark Kuhn, Sean Rossiter, John Halko, Mike Courtney and James Vescio were matched for a "senior design" class project to create a proof of concept for a novel way to dispense Philly Pretzel Factory's famous street snack. The team soon discovered that if solving business problems with creative solutions was a calling, then working collaboratively was practically their destiny.
"We fell in love with the idea of making cool things and it became obvious that there was a career path there," Kuhn says.
After they graduated in June 2013, the group created Oat Foundry, a design and fabrication collective, initially offering 3-D printing services.
"We knew we were good at design, but we had a lot to learn about building a business and gaining the tools associated with that," Kuhn says.
Fortunately, their Drexel education gave them confidence to tackle unfamiliar business problems. "The greatest tool an engineer can have in his belt is adaptability," says Tenthorey. "So much of Drexel was learning new things, and learning them quickly."
Oat Foundry has since expanded to offer product development, architectural fabrication, brand activations and solutions to operational roadblocks for companies. They specialize in custom, often-interactive pieces that communicate the personality of a brand through unexpected materials and technologies. Some projects include a distinctly memorable custom fabrication for Saxbys Coffee; a fully integrated, wi-fi–enabled retro order display for Honeygrow that mimics old-fashioned black–and-white train departure boards; and a reimagined bagel packaging system for the Greater Knead, a local gluten-free bakery.
In another project, they launched a can of La Colombe Draft Latte into the atmosphere with a balloon and four GoPro cameras to capture unbelievable shots of the new coffee drink in near outer space, high enough to see the curvature of the Earth. Recently, Amazon contacted them to ask if they could design and build a car that looked as though it was split in half and slammed into the pavement — just the kind of unusual challenge they like.
"Every project we do is very different from any others we have done," says Vescio.
There's no limit to the amount of "cool things" to be made, but if there's a company ethos, it's to keep the fun and shared sense of ownership in the process.
"We were all friends first," Tenthorey says. "What makes our team strong is the trust we place in each other. Our company culture encourages speaking your mind — we have disagreements all the time, but we always know it's nothing to do with ego. We all want the best outcome for every project we undertake." — Elisa Ludwig