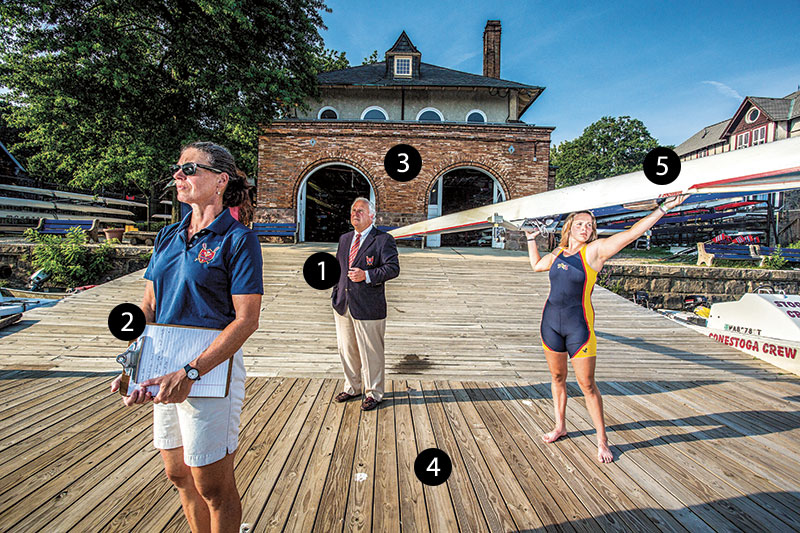 08.12.13 — Bachelors Barge Club
Bachelors Barge Club wasn't exactly sinking when Drexel's rowing team moved into the historic structure four years ago, but it was beginning to list.
The stately brick building on Kelly Drive also known as Boathouse No. 6 had been experiencing structural stress and the interior needed a reprieve from rough treatment by the hundreds of high school rowers who passed through every season. "We realized we were just kind of treading water," recalls Margaret Gordon, the manager of the 160-year-old club. "For Bachelors to have a future and the building to be standing for another 50 years, something drastic needed to happen."
Drexel needed help, too. The University's rowers were living like renters in the Pennsylvania Barge Club boathouse a few doors down, and they wanted a home.
In 2008, a deal was brokered: Drexel signed a 50-year lease that established it as Bachelors Barge's main tenant and in exchange, Drexel gave the club $500,000 to restore and maintain the boathouse for the future. Earlier this year, Drexel deepened its involvement. The University now manages the facility, handling everything from technology to toilet paper.
The arrangement has been good for Drexel crew, good for Boathouse Row and good for local recreationalists.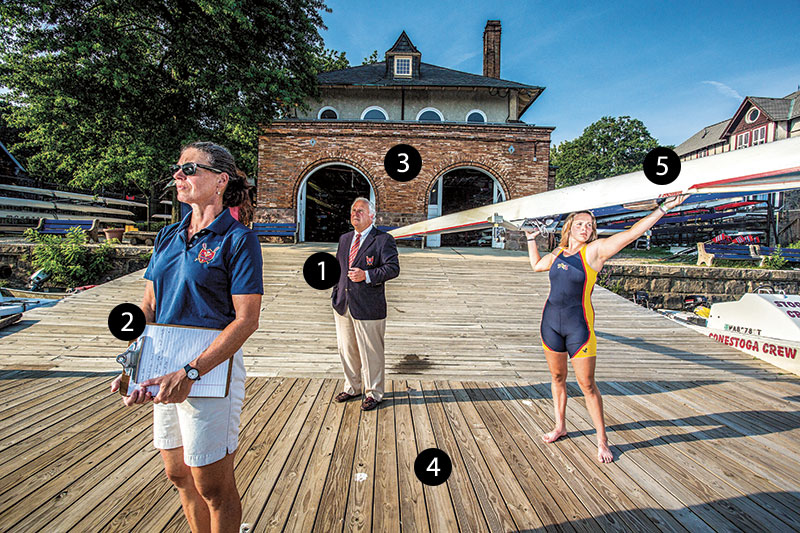 The chairman: Ron Madden was key to establishing Drexel's partnership with Bachelors Barge by initiating a dialogue with Director of Athletics Eric Zillmer, Senior Vice President in Student Life and Administrative Services James Tucker and President John A. Fry. A '72 Drexel alum, Madden rowed for Drexel during his student days and is currently chairman and past president of the Button Club, the private club that owns the boathouse. ("Button" refers to a small Scotch thistle flower that was originally worn by club members on their boutonnière.)
The Manager — Gordon has been managing the boathouse since 1996 and is seeing it through its current evolution. Bachelors Barge has a long history of hosting high-school rowing programs from schools such as Baldwin, Harriton and Lower Merion — some since their very inception. When Drexel became Bachelor Barge's primary tenant, all but Conestoga High School's crew relocated to new homes. "It was a gut-wrenching decision on Bachelors' part," says Gordon. But the changes allowed Bachelors to regularize its revenue stream and develop more highly organized programs.
A better boathouse — The first big change when Drexel arrived was renovation of the "Scull and Sweep" meeting room on the second floor adjoining the balcony overlooking the river. Drexel brought in architects and designers to completely redo the space. "It was an amazing change that kind of jaw dropped everybody at the club and they were like, whoa, this is good already," recalls Gordon.
Sprucing it up — More recently, Drexel had the upriver boat bay graveled, and the dock received new pressure-treated planks. Inside, there are new epoxy floors in the restrooms and new tile in the showers. Walls have been patched and cleaned in the main stairwell and corridor, and the stairs were retreaded.
Best year ever — Rowing out of Bachelors Barge, Drexel's crew program has glided to a series of victories and recently had its most historic season — topped by winning the overall team championship in the 2013 Aberdeen Dad Vail Regatta, the country's premier intercollegiate rowing event. (Pictured: Coach Mollie Cusack, holding a rowing shell.)