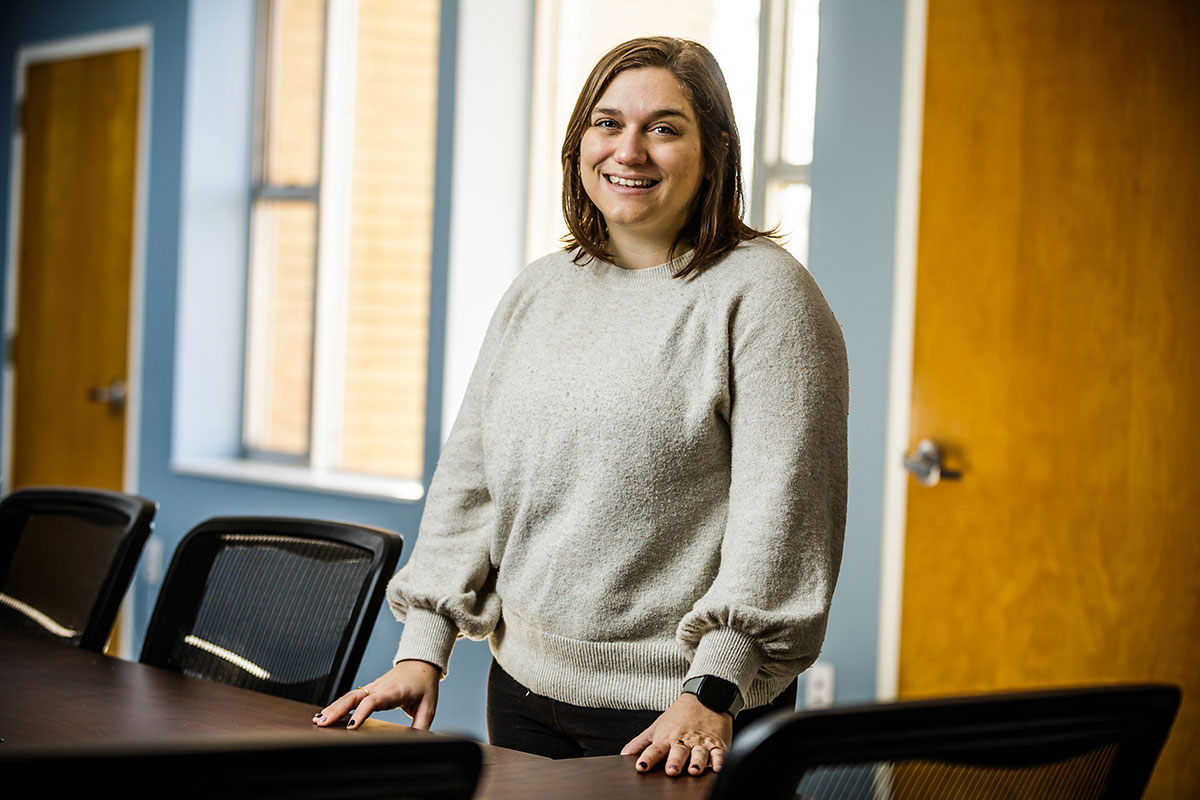 Valerie Johnson
BS/MBA '10
Vice President of Advancement and Special Projects, Pathways to Housing (Philadelphia)
Age 36
Armed with two business degrees, Valerie Johnson decided to build a career focused on helping vulnerable populations and bringing new players into the fundraising world.
Valerie Johnson zigged when her mother thought she would zag: "She heard 'MBA' and was like: 'Oh my God, you're going to be a millionaire,'" the alumna recalls.
In fact, Johnson took a different path after earning her degrees. Her co-op experiences launched her on a journey in service of her community.
She'd been eyeing a career as an event coordinator, "planning cute events at a cute little inn," she says.
"I had my first co-op at an events-and-PR company, and very quickly realized that that is not at all what I wanted to do. They spent a lot of time worrying about what I was wearing, how I did my makeup, what kind of shoes I had on."
When a supervisor lent her a pair of "emergency heels" so she could sit at a desk checking people into an event, she realized it was time to change course.
First, she put her organizational and logistics skills to work in support of the cancer treatment nonprofit City of Hope. That got her into the fundraising world, where she took an interest in housing and helping those without it. "That really felt like the space that I wanted to be in," she says.
Johnson describes housing as the core of community improvement. "At the end of the day, we're all human beings. We all deserve to have a place to live. It's one of the most basic human rights," she says.
"And yet, for whatever reason, the United States doesn't consider it to be a basic human right."
She currently serves as the vice president of advancement and special projects for Pathways to Housing PA, empowering people experiencing homelessness and those with disabilities to improve their housing stability, achieve better health and reclaim their lives. Her portfolio includes developing affordable housing, not just for the participants of the organization's program, but for the community at large.
Outside her day job, Johnson serves as vice president of education and fundraising for the Philadelphia chapter of the Association of Fundraising Professionals, and as a contributor to the local social impact news and events group, Generocity.
"At the end of the day, we're all human beings. We all deserve to have a place to live. It's one of the most basic human rights."
In these roles and with the podcast she co-hosts, Beyond Philanthropy, Johnson hopes to drive greater diversity in the fundraising sector.
"Fundraising is largely white and largely female," she says. "But the Philadelphia community is not. As the ones representing nonprofits that are serving largely people of color, we need to be very mindful of those differences in who it is we're serving, and who it is we're asking for money. We need to encourage more diverse voices to join the fundraising table and become a part of that conversation."
Johnson cites cultural hurdles to non-white participation in the philanthropic world and a long history of exclusion that can be difficult to overcome. "There's a lot of different reasons that we don't have more people of color in fundraising," she says. "But I'd like to make it a more inclusive space."
The change I'd like to see most in the world…
I'd love to live in a world where every single human being is treated with kindness and respect. It's too common for bias, discrimination and hate to dictate how someone is treated. We're all human, we all deserve to have the same basic rights, and we all deserve to live our lives free of discrimination.