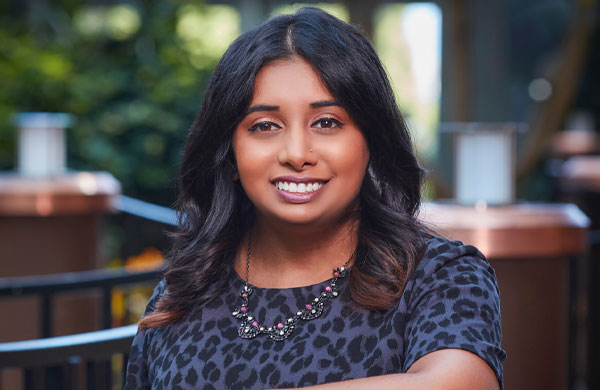 Sabrina Ram
BA corporate communications and public relations '06
Founder & President, Blu Lotus (Washington, DC)
Age 38
My Greatest Accomplishment:
Being able to tell the stories of successful, brilliant women and professionals of color to advance diversity, equity and inclusion. Working in higher education has given me the opportunity to channel my passion for storytelling by highlighting so many diverse students, alumni, faculty, staff and other professionals. I've had the privilege of working with incredible DE&I advocates such as Justice Alan Page, world-renowned poet Nikki Giovanni, teacher and author Erin Gruwell, Communities In Schools CEO Rey Saldaña and American Nurses Association President Ernest Grant. Growing up, I saw very few diverse role models outside of my family. I wanted to see more diverse representation in my school and community, in movies, on TV and in the books I read. Now, I get to use my skills and expertise to provide better representation in our world through storytelling, helping to inspire generations to come.
How Drexel Helped Me:
Through Drexel's co-op program, I gained incredibly important skills and experience that other graduates didn't have that allowed me to advance my career. I was previously the Vice President of Communications at The Philadelphia Inquirer. Prior to that, I led communications and PR at Walden University, 2U, Inc. and Drexel University Online. At Drexel, I also had one of the best communications professors of all time, Rosemary Rys. She inspired my passion, cultivated my skills and championed my success well after I graduated. Her impact on me will never be forgotten. Fun story: I recently met a 2017 Drexel communications graduate in my area through the Dragon Alumni Network. We both talked about how Rosemary Rys was our favorite professor. I was excited to hear she was still impacting students, more than a decade after I graduated!
Where I Hope to Be in Five Years:
Strategic communications is a dynamic field that plays an important role in advancing diversity, equity and inclusion. I hope to be using my expertise to advance DE&I in higher education by leading communications and marketing for a renowned university or college. Getting an education can impact not only an individual but their families, communities and professions for generations. More women attend and graduate from college than men, and enrollment for people of color is continually increasing. It's important for universities and colleges to represent and reflect these changing demographics within their own staff and in the way they represent their vibrant and diverse communities.
The Change I Would Most Like to See in the World:
I'd like to see more kindness and empathy in our world. Life can be extremely hard, but with kindness and empathy, we can improve the lives of so many people. It creates a ripple effect — a force for good.