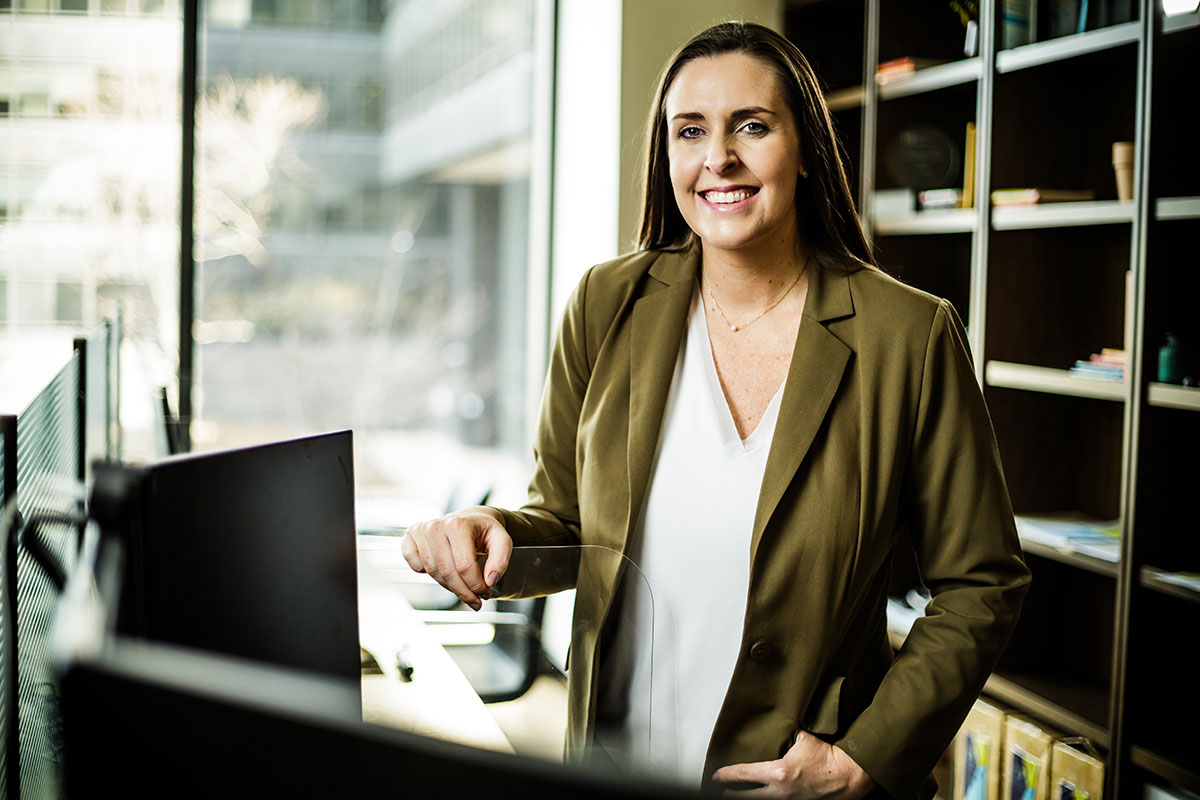 Noelle St.Clair Lentz
MBA '19
Age 34
A deep understanding of the power of financial investment has given Noelle St.Clair Lentz potent tools to help elevate impoverished communities.
Noelle St.Clair Lentz looks for investment opportunities that elevate communities, alleviate poverty and activate entrepreneurial ecosystems in places where they can make a difference.
With a 2019 MBA from LeBow, Lentz serves as senior vice president of impact investing and strategic initiatives at Woodforest National Bank. She's also CEO and managing director of Allivate Impact CapitalSM (AIC), a Woodforest subsidiary with $35 million in assets under management.
"There are communities and populations that have underutilized assets, and with the right capital solution, they can realize their untapped potential," she says. Her work with AIC is all about "getting resources to people and neighborhoods that for far too long have suffered from disinvestment."
This approach has already allowed AIC to score some big wins for a North Philadelphia neighborhood.
"We invested in a project in Sharswood that brought affordable housing, a grocery store, a bank branch and a federally qualified health care center to a neighborhood that was lacking all of those things," Lentz says. Investments like this "are really changing the fabric of these neighborhoods."
"I get motivated by seeing neighborhoods transformed… We're breaking cycles of poverty."
Previously, Lentz served as a community development adviser with the Federal Reserve Bank of Philadelphia.
Personal experience helped to steer Lentz in the direction of community development.
"I grew up in the greater Philadelphia area, in South Jersey in particular, where the wealth inequality in our country is very apparent," she says. "I get motivated by seeing neighborhoods transformed in ways that create quality jobs and provide affordable housing and access to health care and healthy food. All this can have a multi-generational impact: We're breaking cycles of poverty."
Her Drexel experience helped to prepare her for the role. "I was part of the MBA program and I graduated with a concentration in finance. We had simulations that would mimic running a company, looking at every department across business lines," she says.
A class on negotiation proved especially helpful.
"Those are very tangible skills that I learned at Drexel, that I continue to use in my career today."
In addition to her investment work at AIC, Lentz also is a co-founder of the nonprofit The WOW Center, an organization in Merchantville, New Jersey, dedicated to creating opportunity for women.
"We teach financial empowerment. We have entrepreneurship cohorts where we help women who want to start their own businesses," she says. "We have a food pantry in partnership with the Food Bank of South Jersey, and we have a Dress for Success boutique where women can come and "shop" for free professional clothing for a new job or an interview."
The initiatives to help individual women advance align nicely with her professional efforts to elevate entire communities.
"All of my work, both in my professional and personal lives, is just a labor of love for me," she says. "It's what I feel I'm called to do with my life."
The change I'd like to see most in the world…
The change I would most like to see in the world is every person and community knowing their worth and having the resources needed to realize their true potential. Our mission at Allivate Impact CapitalSM is to elevate communities, alleviate poverty, and activate entrepreneurial ecosystems. Our mission at The WOW Center is empowering real women with real stories to thrive, dream, believe, and pursue the impossible through love and community. I have dedicated my career working towards making the positive changes in our world that these mission statements articulate.