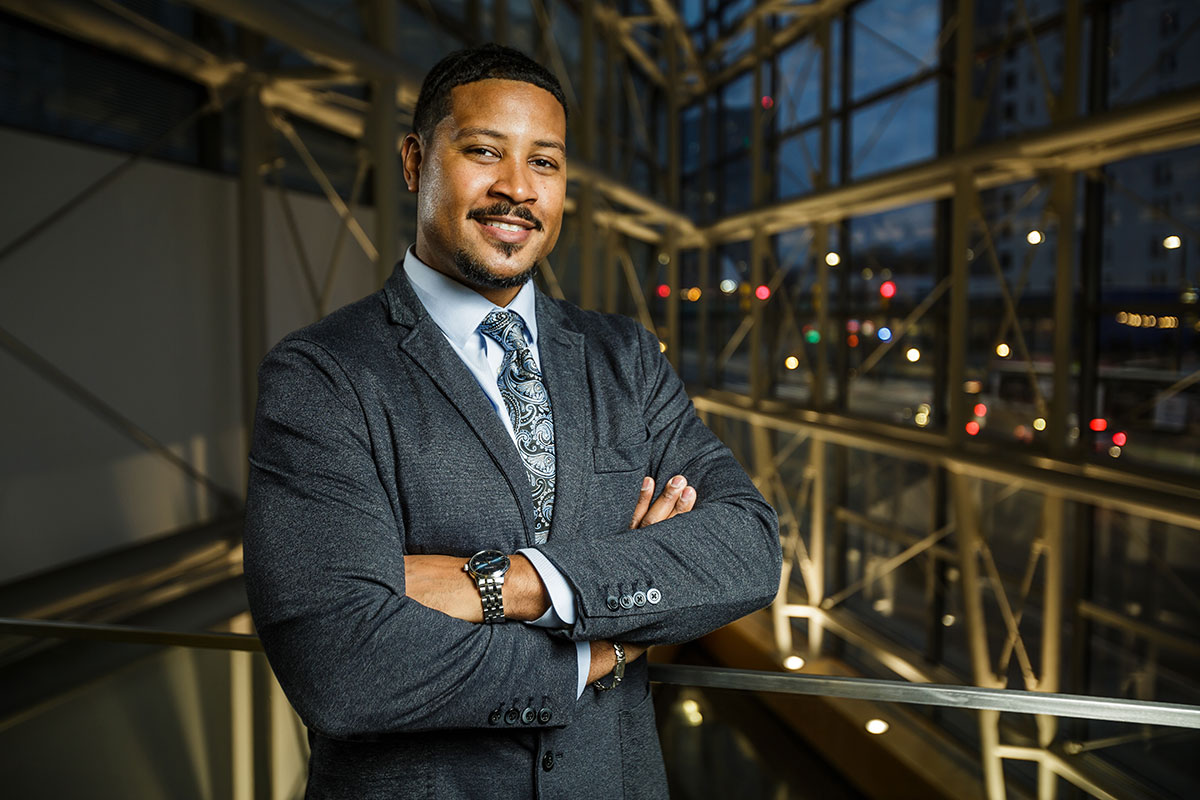 Kristoffer Jones
BS materials science and engineering '12
Age 34
Kristoffer Jones created the Naval Welding Institute to revive foundational skills training in the shipbuilding industry, where he sees a renaissance underway.
Kristoffer Jones got his engineering sea legs during his first Drexel co-op. As a materials science and engineering student, he worked in the Philadelphia Navy Yard, casting propellers while learning to analyze and optimize critical naval alloys used in ship manufacture.
More than a decade later, Jones is still working with the Navy, but he's come a long way. After nine years as metallurgist, during which time he rewrote the specification documents that govern how the Navy builds its propellers, he's now helping to develop the next-generation ballistic submarines that will serve as nuclear deterrents.
When he's not busy auditing vendors and monitoring the supply chain, Jones is working to introduce or improve training programs for engineers and trades professionals who will ultimately support the Navy's plan to expand its fleet to 355 ships.
"Domestic shipbuilding is in a renaissance period, and it's a great time to be involved at any level, anywhere," Jones says.
With that in mind, in 2019 Jones founded the Naval Welding Institute to help educate and develop the next generation of shipbuilders. The institute focuses on building the workforce needed to battle attrition in metallic material fabrication and joining, nondestructive testing and quality assurance — all rooted in advanced manufacturing principles. It's a needed booster for the industry at a national level, encouraging respected members of the shipbuilding industry to connect with aspiring new faces to facilitate knowledge exchange.
"I started my company to create avenues for our next generation."
In the past, there were far more public and private shipyards that could manufacture and maintain the country's fleet. But Jones says there are now just four public shipyards, which has slashed industry capacity and created a "very green" workforce.
His institute assists colleges, universities and private companies by developing the content to teach the fundamentals of welding, nondestructive testing and quality assurance. The goal, Jones says, is to give more young people "a total understanding of the materials science space that goes into making submarines and surface ships."
"Best of all is that these foundational skills afford upward mobility into quality assurance and management roles," Jones says. "The doers of today will almost inevitably be the managers and leaders of tomorrow."
Jones is following in the footsteps of his paternal grandfather, who also worked at the Navy Yard, and he wants to ensure other diverse engineers can do the same. As a Black engineering student, he often found himself in the minority, and the dearth of Black engineers is especially noticeable in shipbuilding, he says.
He's designed the institute to be inclusive for students of color, as well as to offer "outreach and accessibility to communities who may not have known this field was an option for them."
Jones says his parents worked tirelessly and invested in his education from a very early age, to ensure he had every opportunity in life. Fueled by that, he wants to do the same for the young engineers and trades professionals coming up behind him. He knows the importance of a good example in following one's dreams.
"While a lot of us don't have a parent or family member in the industry, that doesn't have to limit us," Jones says, "but it does mean we need others who have gotten there to leave a trail and show the way."
The change I'd like to see most in the world…
I would like to see it be more accessible and affordable for young people to obtain the education or training they need to pursue the careers they aspire toward. This is an essential steppingstone to building the lives they dream of. One of the reasons that I started my company was to create avenues for our next generation to specialize and excel in careers in the trades and engineering, specifically supporting manufacturing. By working with colleges and universities to develop programs that make higher education opportunities possible for these students, as well as funding grant opportunities for the schools we partner with, I hope I am playing a part in making that possible.