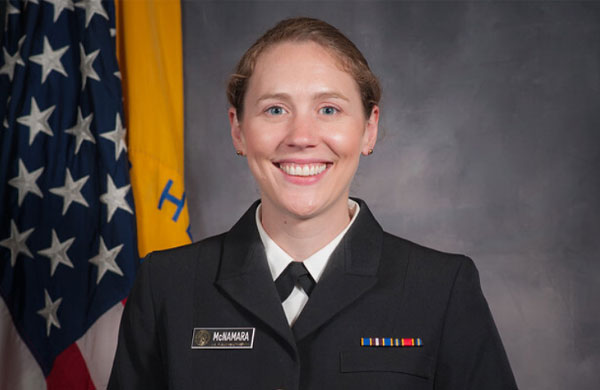 Kathryn McNamara
MPH '16
Age 34
My Greatest Accomplishment:
Serving on the frontlines throughout the COVID-19 pandemic. Public Health Service officers serve throughout the nation in communities that are most in need by providing health care to underserved and vulnerable populations. As an environmental health officer, I was first deployed in February 2020 to lead safety and infection control for Americans repatriating from other countries in response to growing concerns about SARS-CoV-2. I organized socially distanced storytimes for families grappling with a new reality, ensured that our medical responders had the right tools to protect themselves, and pivoted to meet challenges as we learned new information on a daily basis. One mission flowed into another, as the pandemic spread: I spent most of the next two years deployed across the country, in small clinics in South Texas and the Navajo Nation, urban hospitals in Louisiana and Florida, and at the National Institutes of Health in Maryland, where we delivered over 33,000 lifesaving vaccines.
How Drexel Helped Me:
My experiences at Drexel were pivotal to my career path today. I came into public health with an unconventional background in international relations and Arabic. I was so fortunate to be mentored by Dr. Igor Burstyn and pursue the rigorous scientific coursework I needed in health physics, biostatistics and industrial hygiene. While a student at Drexel, I interned at the Centers for Disease Control and Prevention in Atlanta and first encountered Public Health Service officers. Right then and there, I knew I had found my community.
Where I Hope to Be in Five Years:
I just transferred to a new position as a field environmental health officer with the U.S. Public Health Service stationed at the Indian Health Service in New Mexico. We serve more than 100,000 tribal members from 27 unique tribes and pueblos across four states, so there is a lot to learn! I'm excited to continue learning and serving on the front lines of public health.
The Change I Would Most Like to See in the World:
Sustained and dedicated attention to public health on all levels — global, federal, tribal, state and local. In my (few) years as a public health professional, we have grappled with some of the most challenging battles of our time: COVID-19, Ebola, the opioid epidemic, contaminated drinking water, etc. Public health works best when foundations are laid before a crisis, and you have a trained and well-funded workforce ready to spring into action.