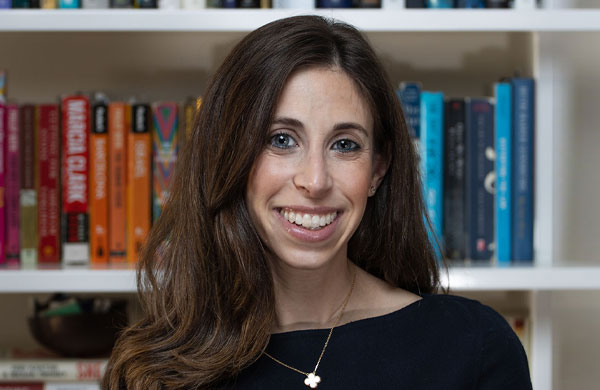 Elizabeth Kamens
JD '11
Assistant District Attorney, Homicide Bureau (New York City)
Age 37
My Greatest Accomplishment:
I hope my greatest achievement is yet to come, but I am extremely proud of the hard work and perseverance I have put toward obtaining my current position as an assistant district attorney in the Homicide Bureau at the Bronx District Attorney's Office in New York City. In this role, I serve crime victims or their families during some of the most devastating experiences in their lives, by trying cases in front of a jury or negotiating for plea deals. Being a voice for the voiceless is a constant motivator. There is no greater feeling than when the victim of a crime or a family expresses their appreciation after a guilty verdict or resolution to a case. Additionally, my involvement as the president of 3GNY, a nonprofit for grandchildren of Holocaust survivors, allows me to give back in a different way, by promoting tolerance and understanding to future generations through sharing our grandparents' tremendous stories of persecution, discrimination, survival and courage.
How Drexel Helped Me:
Gaining a variety of employment opportunities while pursuing my degree, including a clerkship with the Honorable C. Darnell Jones in the Eastern District of Pennsylvania, a co-op with the Philadelphia District Attorney's Office, and a stint with the New York County Defender Services in Manhattan. The assortment of jobs provided me with training I was able to directly use when I started a permanent legal position. I was fully prepared for the demands of working as an attorney. The infancy of Kline School of Law at the time I attended fostered a sense of entrepreneurial spirit; nothing seemed unattainable or out of reach. This, coupled with my determination, reinforced my drive to accomplish my goals and aspirations. The professors wanted students to succeed, and I still keep in touch with faculty members who have just as much insight and encouragement for me today as when I was a student.
Where I Hope to Be in Five Years:
I hope to have substantial trial experience, in addition to one day teaching, becoming a published author and perhaps a judge.
The Change I Would Most Like to See in the World:
Aiding people in times of crisis and striving for justice puts everything into perspective. You never know what people are going through and judgment should be reserved. I would like to see more compassion and patience for others and our environment.