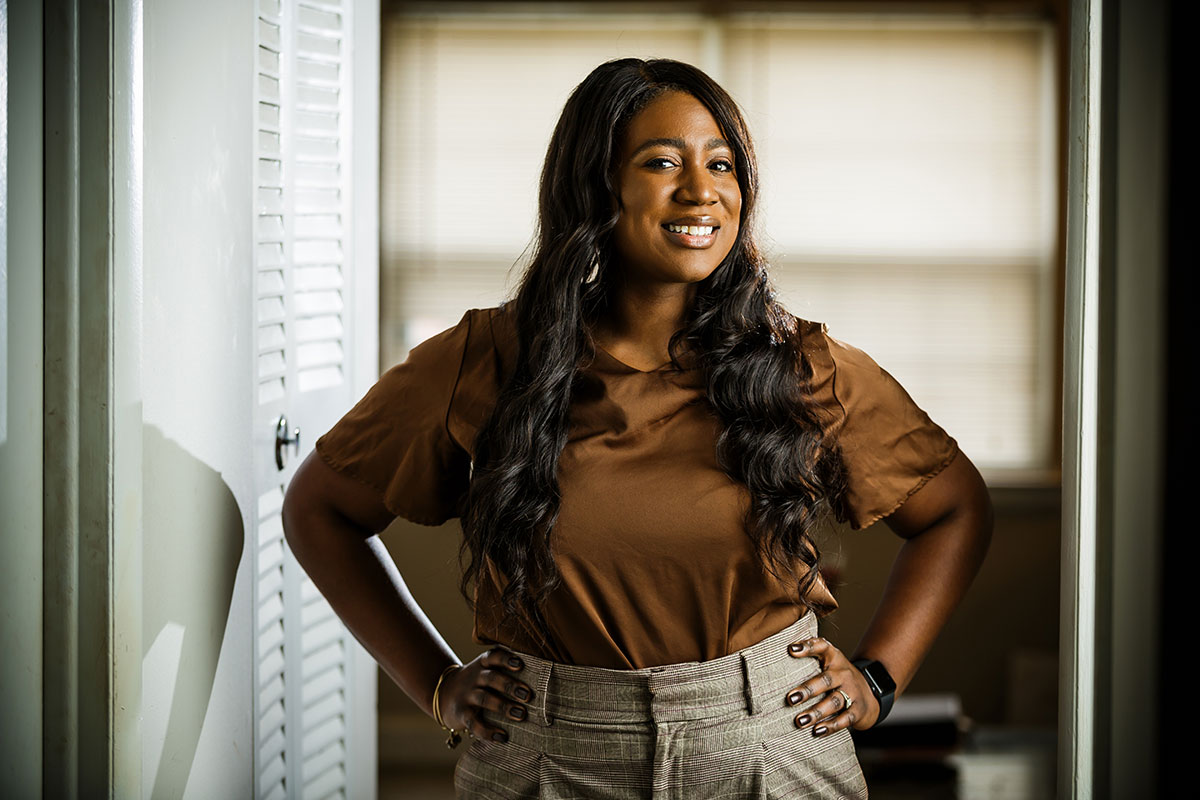 Christine Ivery
MPH '18
Age 34
Every step in Christine Ivery's educational and professional journey has pointed toward ensuring that all members of the community receive the health care they need.
Christine Ivery isn't surprised to be working in health care. Her mother, a nurse, taught her the importance of being "compassionate to the communities and people that you serve, even if it's just being a helping hand," she recalls. She simply didn't realize that public health would be the vehicle to take her there.
After earning a BA in kinesiology and exercise science from Norfolk University, Ivery started working at a community center in North Philadelphia, where she was asked so many health-related questions that she created programs on chronic conditions like high blood pressure and diabetes.
"I started looking around and saw so many gaps and so many needs," she says. When she realized this amounted to promoting public health — and that she wanted to be better at it — she decided to pursue an MPH at Drexel, where she learned about things like building community relationships and "how to sustain programs over time," she says.
Once she worked on a project in maternal child health at Drexel, she adds, "There was pretty much no turning back."
"With collective collaboration, positive impacts on health can be achieved for generations to come."
In 2020, she joined the Southern New Jersey Perinatal Cooperative, where she led efforts to address Black infant and maternal mortality in New Jersey, which has one of the widest racial disparities in both maternal and infant mortality. There, a Black mother is seven times more likely than a white mother to die from maternity-related complications, and a Black baby is over three times more likely than a white baby to die before his or her first birthday, according to state data.
At the cooperative, Ivery did everything from creating media campaigns, to making and deploying courses for community members, to using established peer education models to train new parents. Her role entailed raising awareness around chronic disease prevention and pre-eclampsia warning signs. She oversaw numerous public health grants and worked with communities, legislators, policy makers and doctors to take a multipronged approach to the problem of maternal mortality.
She also partnered with the NAACP to develop the Maternal Experience Survey to help Black parents advocate for sustainable change in health care settings. In 2022, she became an adjunct professor in public health at La Salle University and also gave a TED Talk about overcoming barriers to health equity.
In early 2023, she took on a new role — and challenge. She's now a project manager at Thomas Jefferson University's Collaborative for Health Equity. The role takes a broad view of public health. "It encompasses maternal health and the broader scope of health equity for all walks of life," she says.
Because of her work, Ivery hopes more people will think about roles they can play in addressing health inequity, even if that first step is just listening.
"A lot of our voices haven't been heard, and we feel like we've been silenced," she says, referring especially to Black women. "I want to amplify those community voices."
The change I'd like to see most in the world…
Greater emphasis, action and intentionality on advancing health and racial equity. Improved quality of life and health outcomes will require a constant, concerted effort to dismantle systems of injustice and meet individuals where they are. With collective collaboration, positive impacts on health can be achieved for generations to come.