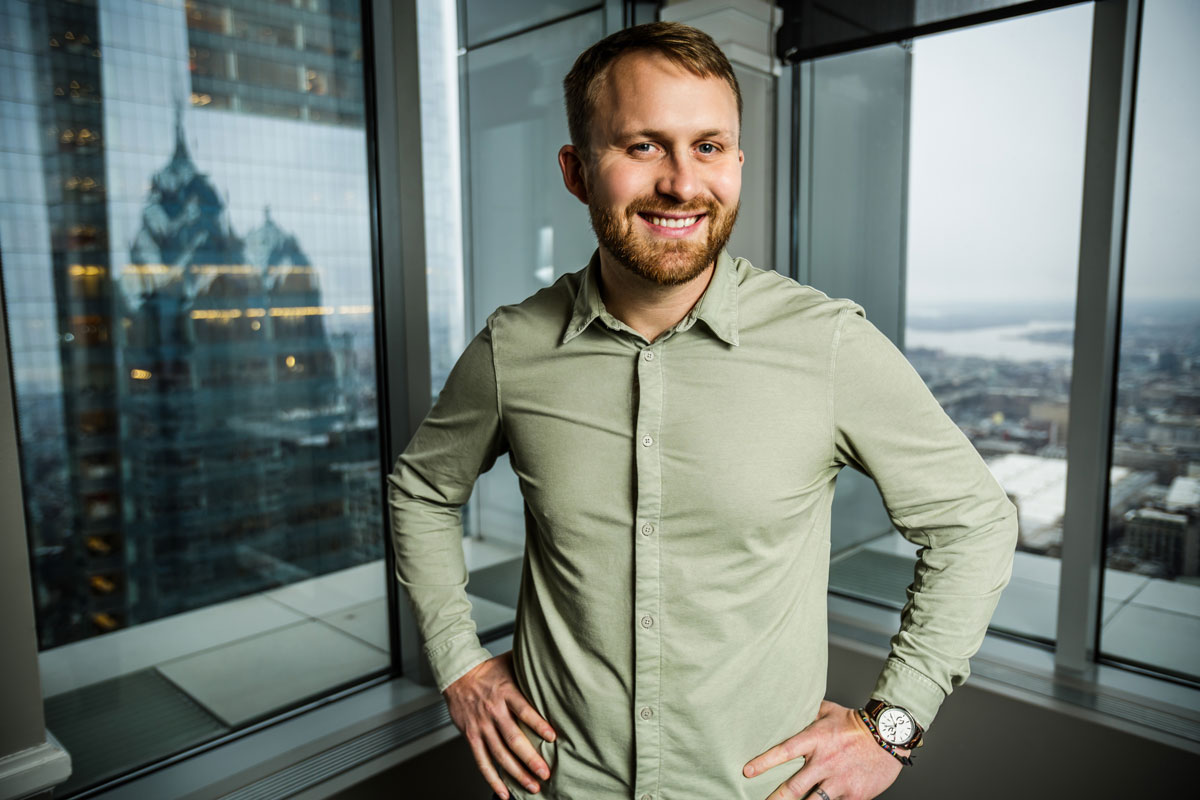 Andrew Bull
JD '16; MS Public Policy '16
Founding Partner, Bull Blockchain Law
Age 34
A self-taught blockchain expert, Andrew Bull paid his way through law school with profits from mining bitcoin. Now he's schooling everyone as he runs the city's first blockchain law firm.
The crypto winter was a blessing for Andrew Bull's boutique blockchain-centric law firm,
Bull Blockchain Law
.
"The firm expanded about 150 percent over the past year, both in business and personnel," says Bull, 34. "We're growing constantly to keep up with the need for regulatory clarity."
He launched the firm in 2017, after being a crypto entrepreneur himself. "We're not just lawyers, we're blockchain evangelists," he says.
Crypto came before law for the Bucks County native. Raised on science fiction stories with an engineer dad, Bull's interest in the futurist-inventor Ray Kurzweil eventually led him in 2011 to an "emerging tech" forum on Reddit, where the chatter was all about Bitcoin. Coins were trading for under $100 then.
He had just finished a political science degree at Goucher College and spent the next several years in various stints. He campaigned for the politicians Patrick Murphy and Martin O'Malley, did voter research for a political consultancy, and worked for the federal government.
Meanwhile, bitcoins glided toward $1,000, and Ethereum became a thing, too. As a hobby, Bull set up a hard drive in his apartment to churn through mathematical code-breaking tasks that would reward him with coins — mining, that is. That launched him on a self-taught learning curve he's been riding ever since.
He enrolled in Drexel for a law degree in 2013 and a master's in public policy in 2014. The same year he entered the Thomas R. Kline School of Law, he also formed a company called Titan Ventures to operate mining machines in two warehouses. He offered mining hosting services and formed a digital asset investment fund. He ran the operation until 2016, when energy costs made the mining unprofitable.
For his master's thesis, he wrote on cryptocurrency regulations — "or lack thereof," he says. "I don't think I would be here, if I didn't have all that time and resources to dive into the subject," he says. "And I was running the businesses as well. At the time, I did not think, 'Hey, I'm going to graduate law school and launch a firm,' because there really was no area of law layered into the industry yet."
Bitcoin profits paid his tuition when he graduated in 2016. He went to work for a plaintiff's firm, where he began assisting clients in the blockchain industry. "Within two or three months, I had reached the two-year goal that I had set myself," he says. "That was what really motivated me."
"We're not just lawyers, we're blockchain evangelists."
His firm now has six attorneys, all focused on the blockchain/crypto industry, including two he hired from Kline. Since he launced the firm, he has written several publications for legal journals, been quoted in Forbes, contributed to a European Union publication on U.S. blockchain legislation and worked with the World Bank, and developed some of the first blockchain-focused courses for law schools and graduate programs.
The firm operates more like a tech firm than a traditional practice, he says. Staff were remote even before the pandemic, with an informal vacation policy, relatively generous 401(k) match, and a work-life balance that Bull, who will soon have a baby girl — with wife Alice Thornewill (JD '18, MS psychology '18, PhD clinical psychology '20) — says is the one thing he will never compromise on.
"There's this notion that lawyers need to break every single bone in their body to achieve success," says Bull. "The industry is ever expanding, so the demand is really high. But that doesn't mean we should sacrifice ourselves just to capitalize off of that in a short period of time."
Meanwhile, he's still learning something new each day, and paying it forward. Each fall, he teaches a blockchain/crypto law class at Kline, giving Drexel students the headstart he didn't have. "If I had had someone like me to learn from when I was in school, it would have given me a runway so I wouldn't have gone into it blind," he says. "It would have been nice!"
The change I'd like to see most in the world…
I'd like to see individuals gain more control over their private data/information. Companies like Facebook shouldn't get all our information and profit off of it. Blockchain technology allows people to control the access to their verified information or share it seamlessly when they choose, while maintaining their privacy. Regulation should prioritize the individual, not the corporate entity.