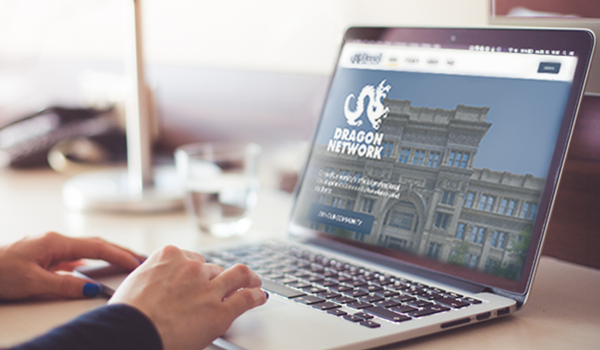 At a time when global events have conspired to keep friends, co-workers and family members apart, Dragons have been discovering a new virtual hub to forge valuable professional and social connections. Since its launch in August 2020, thousands of Drexel alumni and students have joined Dragon Network, the University's online professional community that facilitates career-focused conversations, provides meaningful opportunities to give back, and unites Dragons from around the world.
"Dragon Network came in perfectly timed to help facilitate the networking and professional development opportunities that we need very much," says Vara Anoosha Vijjapu '21.
Relationship-Building in a Virtual World
The lifelong relationships forged between Dragons are one of the greatest benefits of the Drexel experience. Dragon Network offers a variety of free and easy-to-use virtual tools that enable alumni and students to leverage the power of these connections – from wherever they are – for job exploration, information exchange, mentorship and more.
The "Network" page allows alumni to find each other based on career stage, region or industry, and connect with each other using video chat or direct messaging. This page will also suggest matches for potential connections based on information that members provide in their Dragon Network profiles about their interests, areas of expertise and career paths. Dragon Network even provides message templates to help users kick off and sustain meaningful conversations.
"Dragon Network makes it so easy to connect with others," says Afrah Howlader '21. "The templates and tips in the platform set you up for success. Often in person or even on LinkedIn you have no idea how to start the conversation. Dragon Network resolves all of those issues."
The "Groups" page features more than a dozen virtual communities based on industry, region and affinity, many of which are led by alumni facilitators. The Drexel University Black Alumni Council (DUBAC) maintains a Dragon Network group, as does the Hispanic Organization of Latinx Alumni (¡Hola!). There are groups for Dragons who are military veterans and alumni and students who are living abroad. Industry-focused groups include business; media, arts and design; entrepreneurship; and the health professions, medicine and life sciences.
"It's been nice to share the trends I've seen in healthcare and public health over the last 10 years," says Aquiera Halsey '11.
Dragon Network also facilitates connections between students seeking professional guidance and alumni looking to volunteer by helping the next generation of Dragons. As they build their relationships, mentors and mentees can turn to a library of resources that covers topics like how to help with goal-setting and how to manage anxiety when meeting new people.
"I found it an easy, low-barrier way to connect as an alumnus with current students and provide advice on what classes to take, how I found my internship and current work position, and general tips for career development," says Amanda Hazen '20.
David Alan Hunter '20 adds, "Every student I meet with is so motivated to succeed, and it is great to be able to help these students in their path to greatness."
Digital Resources for Success
Beyond tools that facilitate one-on-one connections, Dragon Network offers an extensive array of free digital resources for professional development.
A growing video library offers alumni and students exclusive access to recorded webinars and workshops offered through Drexel's Alumni Career Services program. Currently the library has more than 30 videos that cover issues like work/life balance; diversity, equity and inclusion; interviewing skills; and remote work.
One of Dragon Network's most recent offerings is the Business Directory, which provides a comprehensive catalogue of companies that are owned and operated by Dragons. In a challenging economy, this resource gives Drexel entrepreneurs an opportunity to promote themselves and the Drexel community an easy way to support alumni- and student-owned businesses.
More Members Mean More Opportunity
The power of Dragon Network will continue to grow as more members join and bring their expertise, perspectives and networks to the platform. Alumni who have not yet registered can do so anytime by going to dragonnetwork.drexel.edu and completing a profile.
"I wish Dragon Network was around back when I was in school because it really helps expand your professional network very early on in your career," says Chris Martin '17. "I would definitely encourage other alumni and current students to participate."