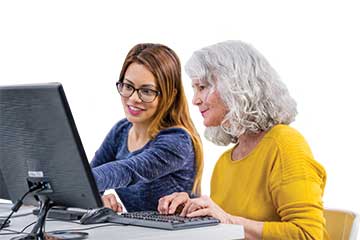 The number of Americans ages 65 and older is projected to nearly double by 2060, and Drexel intends to be a place where they can explore their intellectual interests and benefit from public health research focused on their generation.
Drexel was recently named by the AFU Global Network the first Age-Friendly University in Philadelphia, and is only one of two in Pennsylvania. The network, created by Dublin City University and championed by the Gerontological Society of America, promotes the participation, inclusion, education and wellness of older adults in higher education. Drexel joins more than 60 institutions worldwide recognized for their commitment to meeting the needs and aspirations of all generations.
In keeping with the age-friendly designation, Drexel will seek new ways to engage older adults and the organizations that serve them; ensure that current and future generations of students and faculty adopt an intergenerational lens throughout their careers; and increase aging-related research that is informed by older adults, local communities and other stakeholders.
The College of Nursing and Health Professions is also helping to develop evidence-based clinical and social programs for older adults through its AgeWell Collaboratory, which aims to disrupt the traditional health care system's approach toward caring for
older adults.
'As more of us live longer and in many cases better lives, we have the opportunity to reimagine what aging means in this country and globally.'

LAURA N. GITLIN, dean of the College of Nursing and Health Professions and the College's AgeWell Collaboratory.