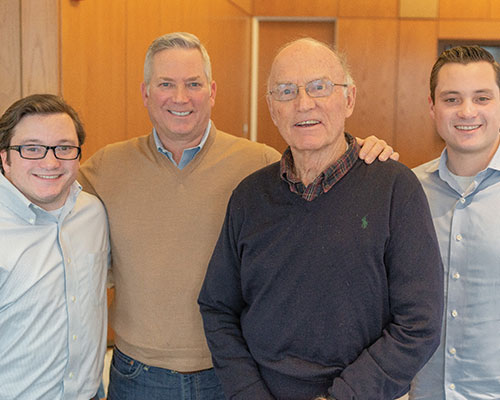 It had been nearly 30 years since Scott Brotz '84 visited Drexel when he brought his son Gary for a campus tour in 2012.
At the time, Scott expected to return to what he referred to as "a sidewalk campus," of the 1980s: urban and practical, but not flashy or fashionable. In a way, the impression Scott had as a student reflects his own trajectory from studying business to a co-op experience with a certified public accounting firm in Center City to a career as a CPA and owner of his own firm: professional, straightforward, no-nonsense.
Twenty-eight years later, as they toured the campus, Scott and Gary were both drawn to the Recreation Center — one of many notable campus additions since Scott's time — and were awed by the state-ofthe-art facility that includes an elevated jogging track, climbing wall, world-class squash courts and more.
"We stepped outside, and Gary looked down Market Street and I said, 'What do you think?'" Scott recalls. "He said he really liked it here and I thought, 'You do? Really?'"
"I fell in love with the energy of the city," Gary recalls. "I didn't need the gated campus feel, the trees — I wanted to be where the action is."
From that day, Gary was sold on Drexel, and soon his twin brother, Carson, also decided on Drexel. "I always wanted them to go to school together," Scott says. "To have one here and one somewhere else didn't seem natural, but I wasn't going to force it."
Though a photo of the twins when they were 3, dressed in Drexel sweatshirts, on the beach at Long Beach Island seems prescient now, both sons and father say there was no pressure for Gary and Carson to follow in their father's footsteps — or their grandfather's. Yes, Scott's father Joseph Gary Brotz '58 was the first Dragon in the family, and after Gary's epiphany on Market Street, Scott could clearly see his sons becoming the third generation of Brotz to attend Drexel.
The fundamental values of Drexel — the importance of cooperative education, gaining professional experience alongside academic work — span generations. These values were just as vital to the institution when Gary and Carson were considering their college choice as when Joseph Gary attended Drexel in the 1950s and for Scott three decades later. "They told us that finding a good job after college was hard, especially in a very competitive market. Drexel's co-op program and academic reputation will give us a leg up with prospective employers," Carson says. "That was a huge appeal for both of us."
For family patriarch Joseph Gary, his path to a Drexel education ultimately led him to a career at Campbell Soup Co., where he worked for decades following a brief flirtation with professional baseball, playing in the New York Giants farm system for a season. "There was something in the paper about the Yankees being interested, but it never came to anything," he recalls. "I had to finish school."
Good press isn't the only thing that Joseph Gary has saved from his days at what was then the Drexel Institute of Technology. Tau Kappa Epsilon (TKE) fraternity composites, several editions of the Lexerd yearbook and a rare blanket only given to five-year lettermen all fill out a Brotz family archive that his wife Margery has maintained over the years. Close to 60 years since his start at Drexel, how did he receive the news of his grandsons entering the school that would begin what is now a three-generation legacy? "I felt good," Joseph Gary says. "I felt I did something to put them there."
That's putting it mildly. He and Margery babysat them starting from when they came home from the hospital, born prematurely and underweight. From their first days in their grandparents' house, home to a grandfather clock with Joseph Gary's fraternity crest on it, Drexel loomed over the twins' lives — but from a distance. "No one pushed Drexel on us or told us we had to come here," Gary says. "Only after we both said, 'We want to go here,' that's when the support really piled on." Of course, the family's Drexel lineage continued when Gary and Carson were accepted, and they, like their father and grandfather, studied business. It wasn't truly sealed, though, until their graduation in June 2018, and with their accomplishments here and the promising start to their careers — Gary in finance, Carson in accounting — their father now looks back at his Drexel days with even more fondness.
"The feeling you get knowing that you are another generation that's come here, you can't really describe. You want to make your father proud, right? For Gary and Carson that pride was felt as both sons and grandsons," Scott says. "I don't know how I would feel if I went to another school. You're not connected to history; you're not really representing or honoring the last generation. There always has and always will be a special something here."
Scott is the connector now, though his Drexel experience was distinct from his father's and his sons' — both Gary and Carson and Joseph Gary shared the same Greek life experience as members of TKE, and Carson played a season for the University club baseball team. Scott says, "though I didn't join a fraternity or play a sport there's something special about being in the middle, the bridge between the last and current generations." That's where Scott will stay, carrying his father's legacy forward as his sons carry his, until another generation frolics on the beach in Drexel gear.