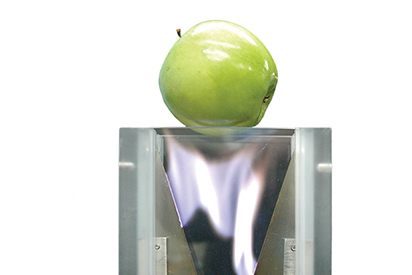 A new research center at Drexel will work with industry to uncover early-stage applications for plasma technology.
Plasma is an electrically activated gas commonly found in neon signs, high-definition televisions and lightning. Researchers are experimenting with using plasma as a sterilization tool in medicine and food processing and in other applications ranging from water treatment to wound healing.
The newly established Center for High Pressure Plasma Energy, Agriculture and Biomedical Technologies is funded by a five-year National Science Foundation grant jointly shared by Drexel, the University of Michigan and George Washington University.
"By deepening our understanding of plasma systems and how they interact with their environment, this work will help expand the use of low-temperature plasma for applications such as food processing, agriculture, fuel conversion, medical and industrial waste water treatment, and many other new areas," says Alexander Fridman, director of Drexel's Nyheim Plasma Institute and a professor in Drexel's College of Engineering, who will serve as director of the new center.
The Nyheim Plasma Institute has been conducting plasma technology research and development since 2002, with projects ranging from water-to-energy conversion, air and water treatment, to medical applications.