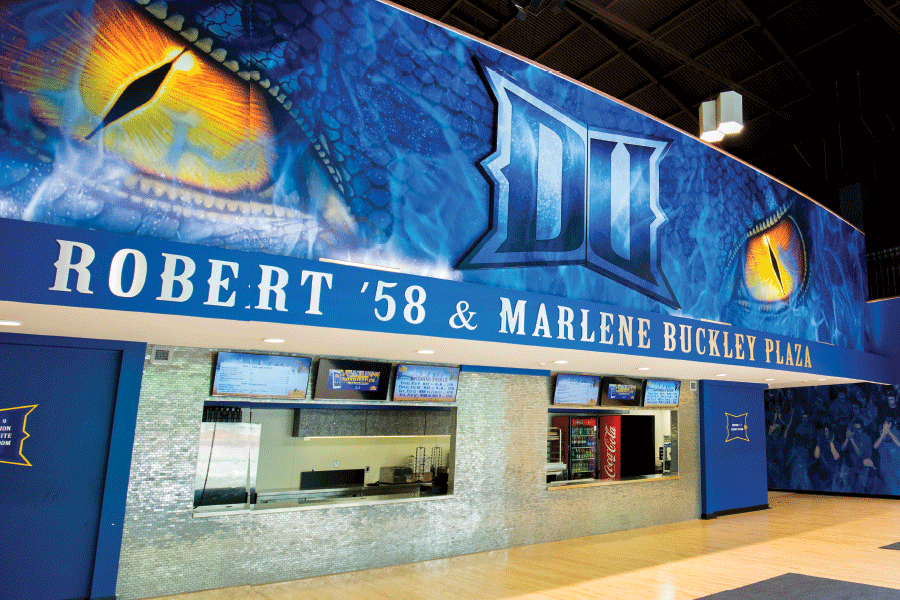 The next time you visit the Daskalakis Athletic Center for a game (and we hope to see you!), you'll notice that things look a little different.
Started in July 2013 and completed in the fall of 2016, the renovations created a mix of new and improved spaces and features, marking the DAC's first upgrades since the building opened in the '70s. The goal of the project was to make the space more user-friendly for everyone — like the fans, visiting teams, the media and even the staff. Certain features, like the concession stand and merchandise shop, were always available on game days but were taken down when not in use. Others, like the bathrooms, media room and locker rooms for visiting teams, were located a floor or two below the court. Now, however, everything is on the same floor — and it's all permanent.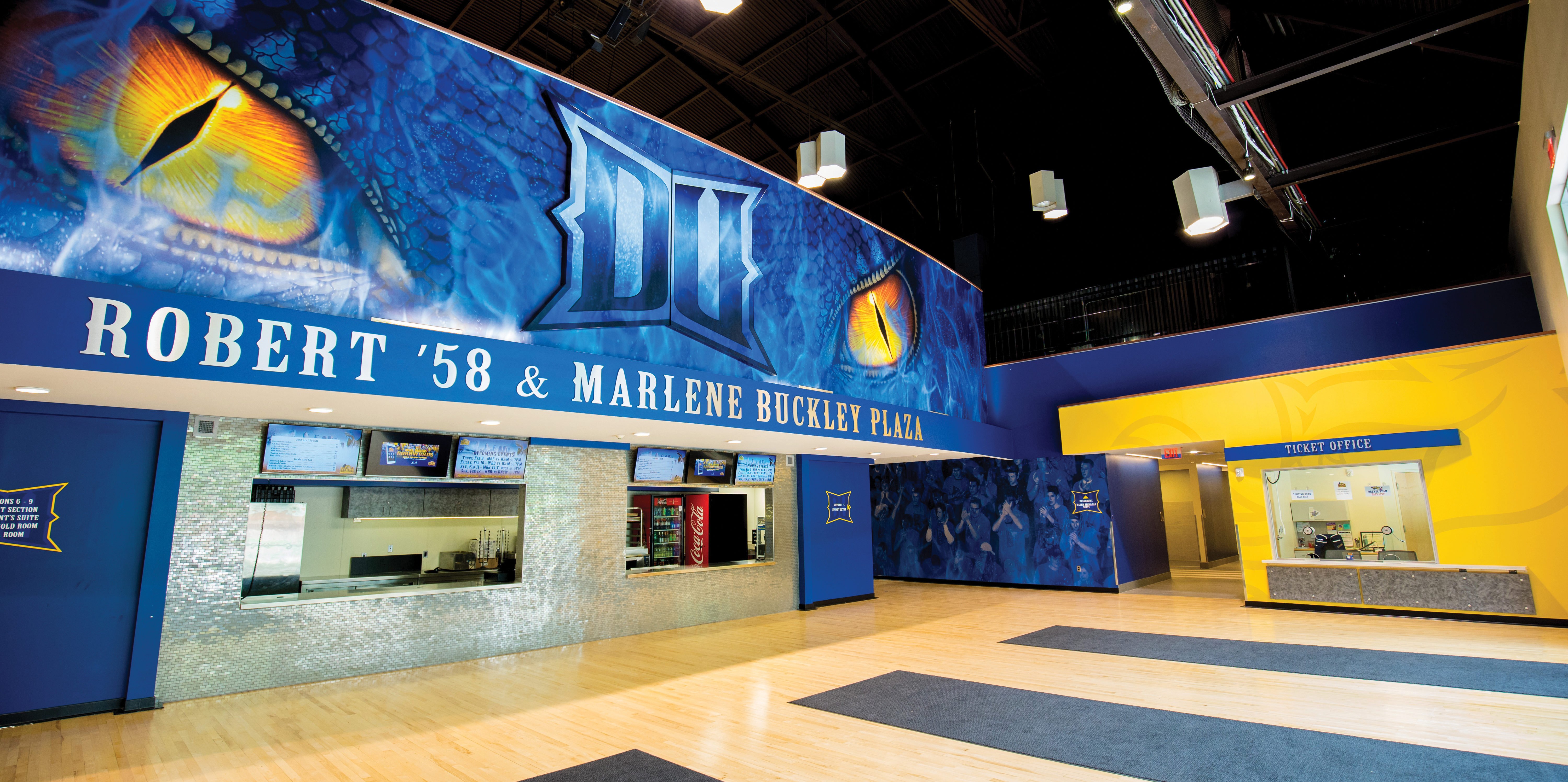 Main Entrance
You know you're going to see Dragons as soon as you walk into the new lobby — the yellow eyes and blue skin of a dragon watching the front entrance is kind of hard to miss. Below, in the space where the dragon's mouth would be, is the concession stand, which used to be freestanding and is now a permanent fixture.
Ticket Office & Dragon Shop
The ticket office and Dragon Shop were made into permanent structures with the renovations. Previously, those stands were assembled for games and taken down afterward. The ticket office can also be accessed from the exterior, so fans can walk up and pick up tickets on non-game days. Though not seen in this photo, men's and women's bathrooms are near the ticket office — a huge plus for any fans who've had to race downstairs and back during a game.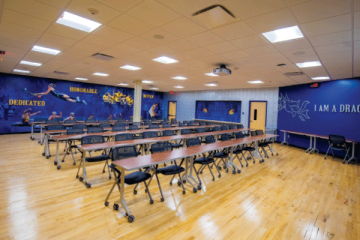 Media Room
On game days, this media room is used for press conferences and acts as a space for the media to cover the game. Before, a media room was located two whole floors below the gymnasium. On off days, this space can be used for anything from a meeting space to a classroom to a place where students can chow down on pre-season and pre-game meals (a catering kitchen is hidden behind those dragon eyes). The mural of Drexel student-athletes highlights the different attributes and qualities that all members of Drexel Athletics bring to the court (or field, or pool, or mat…).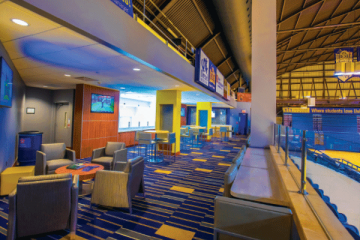 President's Suite
This VIP section is open to donors and season-ticket-holders who donate at a certain level for hanging out before, during and after games. The space was available before, but these renovations basically doubled it in size. New features include TVs, bars, a bathroom and an elevator. The lounge area lets people eat and watch the game in style from a certain vantage point, while courtside seats can be purchased as well with a donation each year.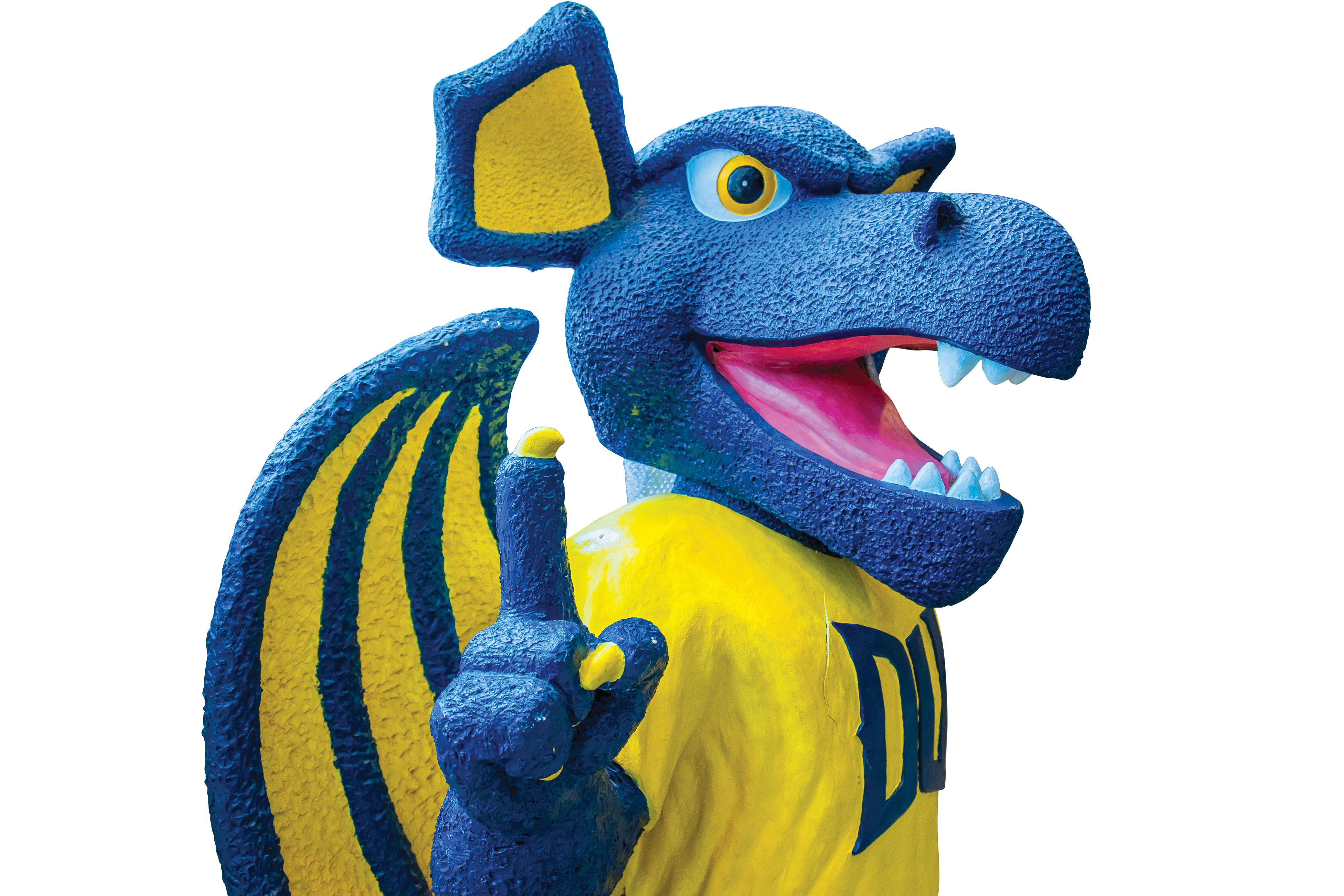 In total, the renovations affected:
36,500 square feet
36 separate spaces