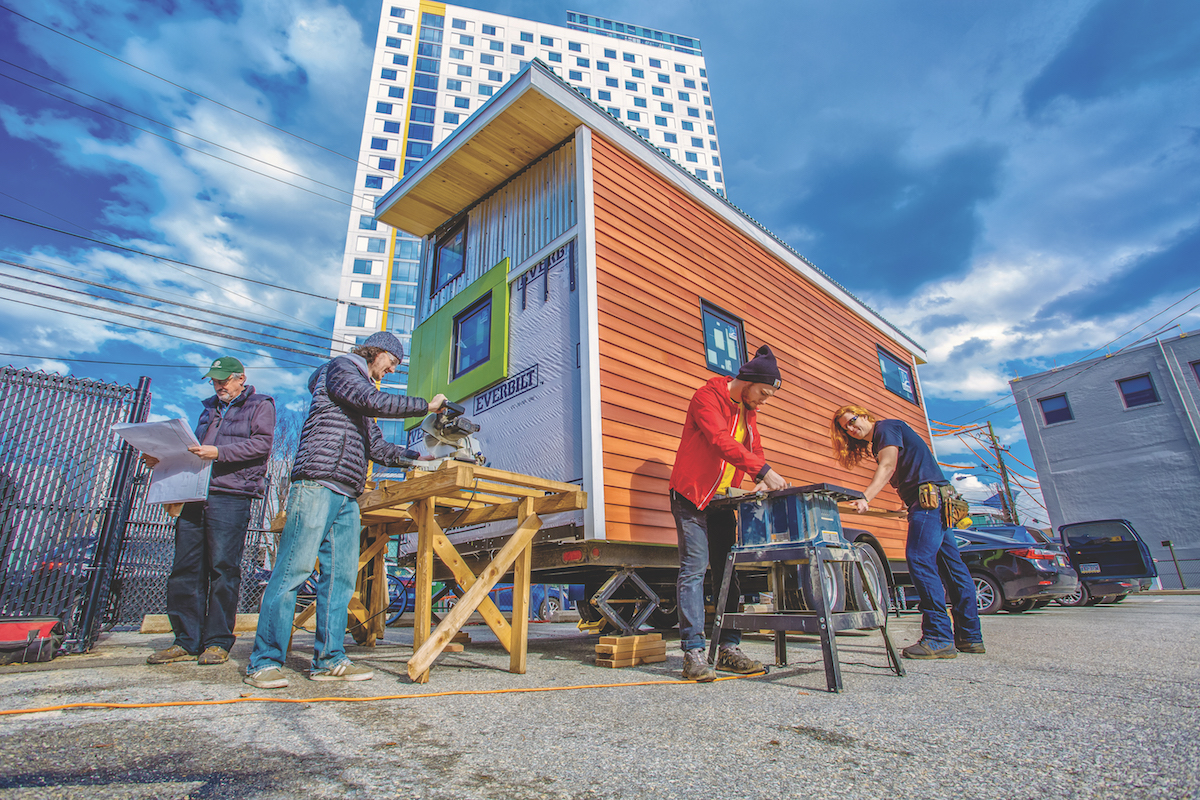 Architecture students took on a little project with a big payoff this year in a class challenge that taught them about the tiny house movement, construction, urban farming and permaculture.
By Katie Clark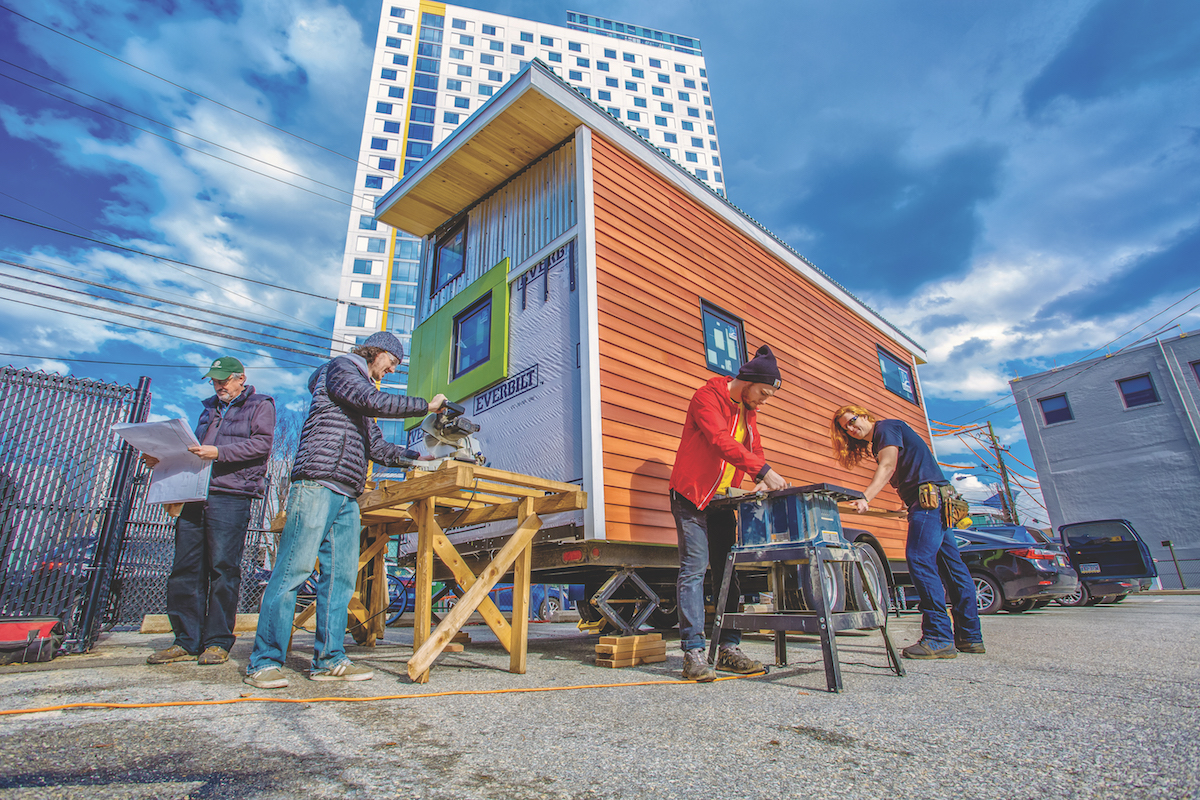 It's an unseasonably warm Thursday in January and Drexel alumnus Brendan Forristal (BArch '16) has taken the day off from the job he landed after graduation at a local architecture firm to head back to campus and work on a class project he never exactly finished.
He's been a part of it from the very beginning, and is determined to see it through to the end.
Forristal is one of about a dozen students who helped build a tiny house as part of a design-build studio challenge led by local architect and adjunct professor Tim Kearney, with help from Hanley Bodek, a long-time West Philadelphia real estate developer looking to make a difference.
The idea to build the tiny house originated with Bodek while he was teaching a class at the University of Pennsylvania (also open to Drexel students) in which the students were required to buy an abandoned house and flip it.
It was experiential learning at its fi nest, only with one huge problem: It took too long.
"It could take over three years to buy a house and renovate it because of the size," Bodek says. "And the cost of land or vacant abandoned houses has gone so high that doing a student rehab job is prohibitive."
So he started thinking smaller.
"I've always liked small things: They are more efficient, less wasteful — small is beautiful," he explains. "Coupled with that is the fact that one of the world's problems is lack of adequate housing. And I thought the tiny house could be part of the solution."
Bodek contacted the Department of Architecture and made a gift to support the project. From there, the Bodek "Tiny House" Challenge was born.
The challenge is a three-term competition/design/build studio in which students learn about the tiny house movement, urban farming and permaculture and participate in the design and construction of a trailer-based tiny house.
Kearney, who has taught architecture at the University for 16 years, was tapped to head the project, since he had previous experience building tiny houses with his fi rm, CuetoKEARNEY Architects. The class began in spring 2016 with a design competition, construction began that summer and the project wrapped up this past winter term.
"The difference between drawing something on paper or on a computer and actually working on it — I mean, some of these kids have never held a hammer before — it's been pretty wonderful," Kearney says. "There is nothing like the experience of actually building something."
Forristal can attest. "As a student, being able to go from conceptual design, to construction documents, to actual building — it's been so invaluable," he says. "I was able to see this creation come to life."
It was decided early on that the recipient of the completed, 200-square-foot tiny house would be the West Philly location (51st and Baltimore) of Greensgrow, a community organization that employs urban agriculture to cultivate food, community and entrepreneurship. The Drexel team presented the house at a ceremony on Feb. 22 to Greensgrow Executive Director Ryan Kuck.
"Nonprofifts have to build things on a tight budget — this house is so beautifully crafted; there's a lot of love in it," says Kuck. "It's inspiring and really exciting for us."
Kuck says the tiny house will be used for educational programs for children and youth in the neighborhood, and he plans to auction off overnight stays in the house as a fundraiser for Greensgrow.
For Bodek, the whole experience is exactly what he had in mind.
"Giving architecture students the chance to use their hands to build what they design is a valuable experience and will lead to better, more practical and sustainable architecture, which the world needs," he says. "I think challenges like these could eventually lead to land-use solutions in Philadelphia and across the nation."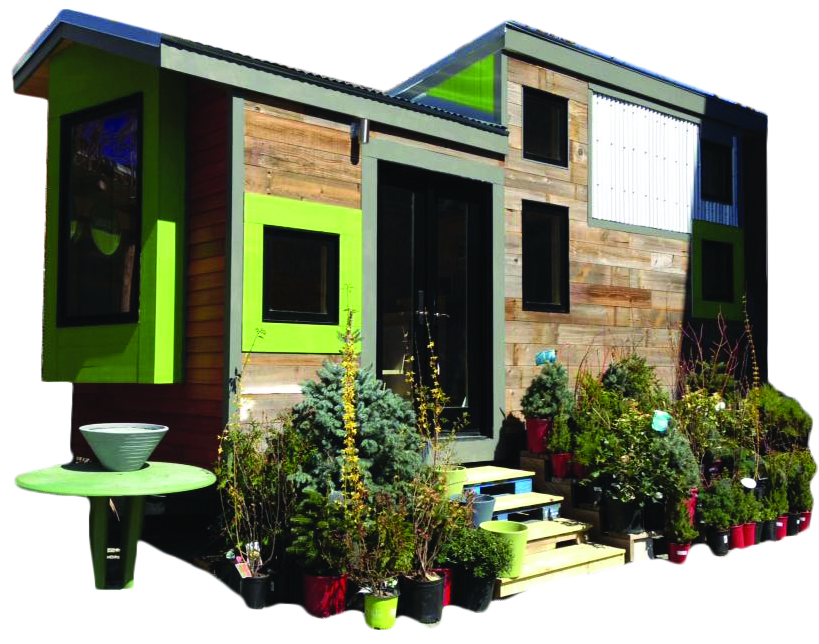 Drexel donated the finished tiny house to Greensgrow West, an urban agriculture organization in West Philadelphia that will use it for youth education programs.