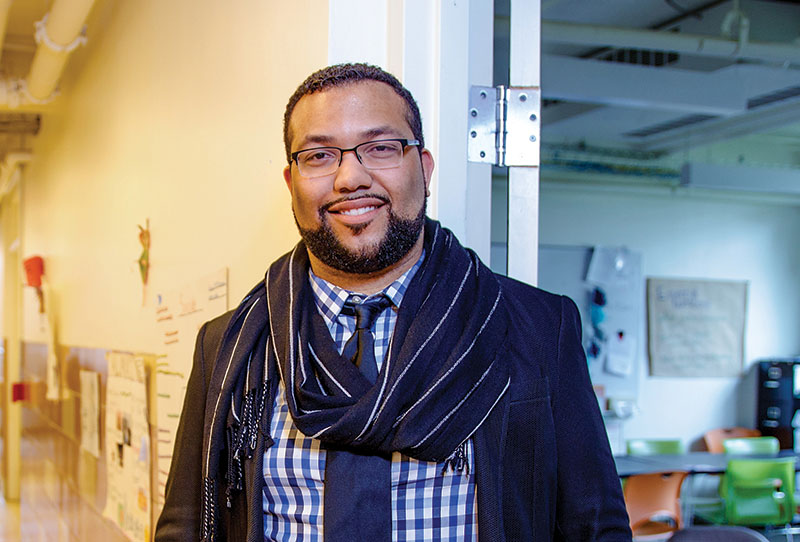 Powelton Village's newest middle school, which opened September 2016 with Drexel's support, uses experiential learning to keep kids engaged in the classroom. In its first full year, progress is already evident.
When Lucy Kerman stepped inside Science Leadership Academy Middle School for the first time last fall, she was moved by what she saw.
Kerman, Drexel University's senior vice provost for University and Community Partnerships, knows a thing or two about university-assisted neighborhood schooling, from having previously helped to establish the highly regarded Penn Alexander School at the University of Pennsylvania in 2001.
But her visit to SLA-MS, Drexel's newly launched partner public school in West Philadelphia, felt different.
As she watched the students share their research on utopian societies — cozy on the floor, presenting models and debating the merits of chocolate-as-currency and eagerly awaiting their turn to speak — she was struck.
"I have never seen a classroom that engaged," says Kerman.
Drexel helped to launch SLA-MS with the School District of Philadelphia and the school's nonprofit educational partner, Inquiry Schools, in September 2016. It opened inside a temporary location in Drexel's Dornsife Center for Neighborhood Partnerships with a mission to provide hands-on, project-based education to 88 fifth-graders, most of them from the surrounding Mantua and Powelton neighborhoods. As the school matures, it is projected to hold 360 students in grades 5–8 and will allow nearby Samuel Powel Elementary to expand grades and classrooms.
Its arrival is an example of Drexel's long-standing commitment to provide support — both curricular and material — to neighborhood public schools, led by staff and faculty including Kerman and School of Education Dean Nancy Songer.
At the heart of it all is Christian Edge, Drexel's director of K–12 school work, who serves as a full-time liaison between the University and the middle school.
Edge is an education specialist who came to Drexel about 15 months ago with experience running the after-school program at nearby Lea Elementary. He spends every day inside SLA-MS and Drexel's other local partner public schools, which include Powel Elementary and Morton McMichael School. A new Promise Neighborhood Grant for the area, funded by the U.S. Department of Education, recently expanded Drexel's list of partner schools to include Alain Locke, Belmont Charter, West Philadelphia High and Martha Washington. When a school needs prizes for Math Night, or a reading specialist, or a field trip to a museum, he's who they ask for help.
Edge and the School of Education faculty provide institutional and academic support that has been especially important to SLA-MS, whose teachers had to develop their own curricula in the lead-up to the school's launch. Everything, he says, is in service of clearing the way for the students to flourish.
"If you can get students to buy into their own dreams, their own aspirations, their own curiosity, that right there is guaranteed engagement," Edge says.
The new middle school follows an educational model familiar to Drexel, because it is both experiential and innovative. There is no homework, and students spend more time creating and designing than they do reading textbooks. Classes are often exploratory, allowing students to ask their own questions and find their own answers. Every day includes "rover time," a period dedicated to self-guided learning in which some students learn how to make stuffed animals, some learn to bake cake and others research viral infections.
Every Tuesday afternoon, the students break off for extracurricular "mini-courses" — overseen by Edge — in cooking, dance, creative writing and the sciences. It amounts to an alternative approach to education that, judging by the bustling classrooms and students brimming with energy, has already clicked.
"This is the kind of educational experience that is going to get a child from this neighborhood to these jobs," Kerman says, pointing on a map to the burgeoning community of innovative employers in University City. "It's a really rich and interesting initiative."
The mini-courses at SLA-MS have been a key to capturing the attention of students. Each course is a 10-week excursion into a new realm, and students cycle through as they complete each one. To give them a window into the world beyond the classroom, SLA-MS joined with educators from local organizations including CityStep, the University City Arts League, FirstHand and Mighty Writers for focused courses.
The most popular offering is a Drexel-sponsored cooking class from alumnus and James Beard Award-winning chef Marc Vetri, who has visited on occasion. "It's the best thing," Edge says, flashing a smile.
The mini-courses align well with Drexel's focus on immersive, experiential education, Songer says.
"They are just another excellent manifestation of principles and values that we think are important," she says. "Learning isn't just for learning's sake. Learning often happens best in real context."
Songer sees no limit to how close Drexel and SLA-MS could become in time. DragonsTeach Middle Years, a program that allows Drexel students to obtain middle-school teaching certificates in any major, and the Lindy Scholars Program, which can support SLA-MS with mentors, both expand the University's offerings and could strengthen the relationship.
"When SLA-MS faculty feel that they need another set of eyes on their curriculum, we know we can go right to Drexel," says SLA-MS Principal Tim Boyle. "Not many schools get to say that they have a university partner right next door that they can bounce ideas off of when they need to."
The connection between the two will intensify when a permanent home is built for the school. Drexel has long desired to create space for the school at the site of what used to be University City High School, near 36th and Filbert streets. Drexel owns the property, and designs are in place for SLA-MS to move there, along with Powel and a new School of Education building.
"The pie-in-the-sky, best-case scenario is that SLA-MS students are almost junior Drexel students — that they have the opportunities that the campus provides them, just as a Drexel student would," Boyle says.