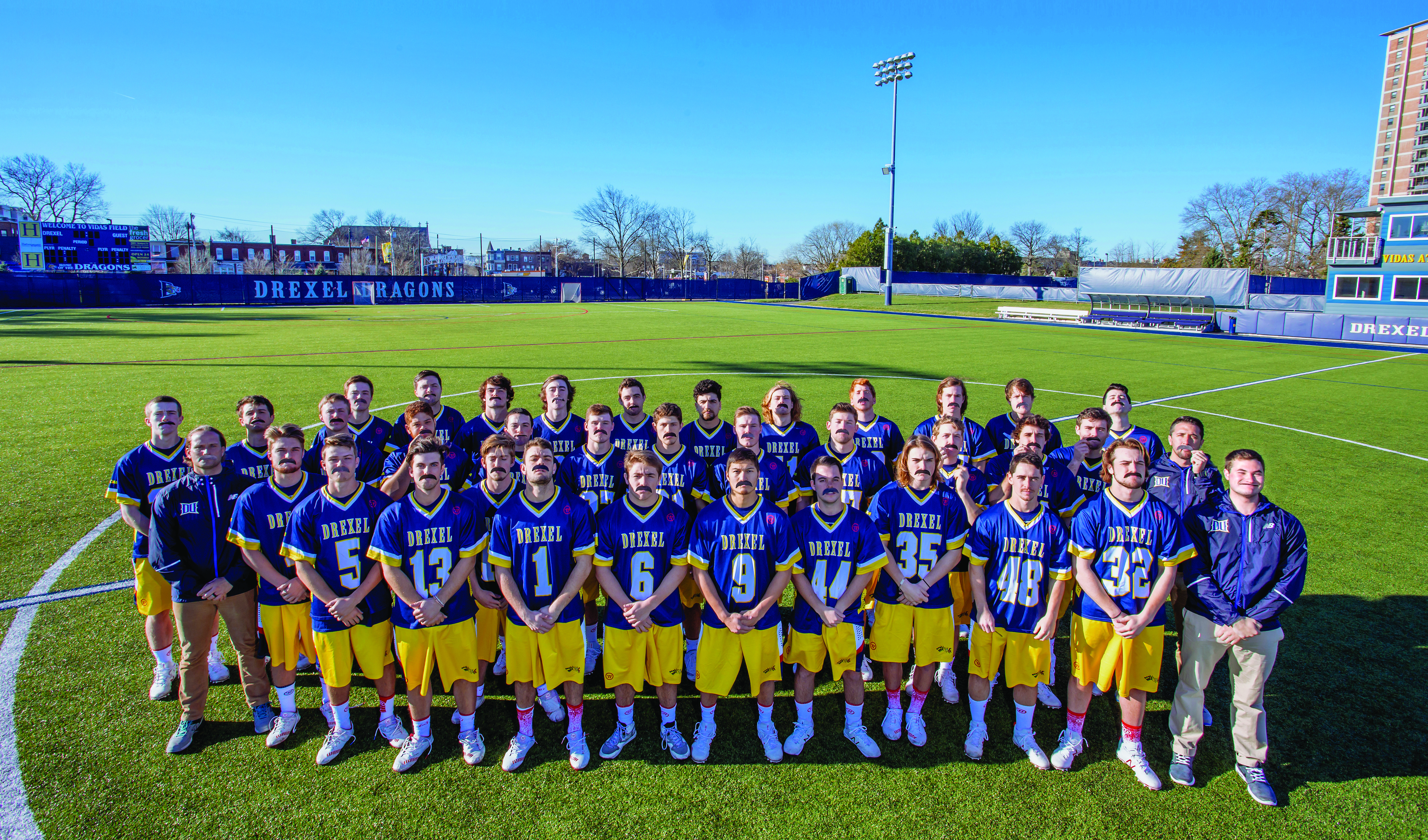 The Drexel men's lacrosse program commemorated both the University's founding and its own 75th anniversary with mustachioed pride this past spring. By Adam Stone
Photo by Jeff Fusco
The Drexel men's lacrosse program marked its 75th anniversary with the naming of an honorary team of all-stars and an April 22 game against Delaware in which the Dragons donned throwback jerseys during the season finale against the Blue Hens.
It was a well-earned celebration for a team that's playing at the peak of its game after more than seven decades of history on the field.
"We've done everything we can to build here, to bring in the right kids and get the program on the right track," says Brian Voelker, head men's lacrosse coach. "You can see the results of that effort."
Looking back across the years, Drexel lacrosse has been through many changes, as the team and the sport itself have evolved.
Deputy Athletic Director Nick Gannon looks back at the 1950s and 1960s, an era in which many lacrosse players spent the offseason in football gear. "It was a very different sport. There were not as many people playing, it was less specialized," he recalls.
"Guys would play offense and defense, where today you have guys who just face off, guys who just play defensive midfi eld," he says. "And of course the equipment has gotten so much better; the sticks are better. It's become a much more modern sport."
In this modern era of highly specialized play, it takes more than just skill to drive a winning season.
"There is a lot that goes into it today," Voelker says. "You need good players, kids who are willing to work hard. But you also need a supportive administration. The athletic department has been very supportive of the lacrosse program. People see us competing at the highest level and they are willing to do things to help make our program successful."
It also helps to have passionately engaged alumni. "The lacrosse alumni are a great group," Gannon says. "There are friendships built over years, guys who communicate with people who played 10 or 20 years before them. It is a uniquely tight group. There are people who come back every game to see the team play, and the 75th season has really re-energized a lot of those relationships."
All the pieces have come together in recent years to take Drexel lacrosse to new heights, including NCAA Quarterfi nals in 2014 that included six straight wins at the end of the regular season.
"It's a really rewarding job, especially when you see the kids willing to work hard to do the things they need to do to make us successful," Voelker says. "We work a lot of hours, we work weekends, we travel. But it's not just work, it's a part of my identity. Coaching can be really rewarding in that way. It's more than just a job."
---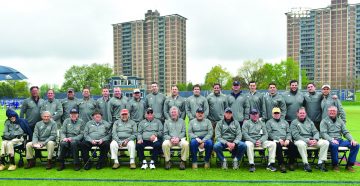 In commemoration of the history of Drexel's lacrosse program, a 75th Anniversary Honorary Team of 36 all-stars (pictured at left) was chosen by a combination of fan votes and selections by the Drexel Men's Lacrosse Alumni Committee and the Drexel Lacrosse Administration.
Robert Ambler (1972–75)
Colin Ambler (2007–10)
Clarence "Andy" Andrews (1946–48)
Walter "Sonny" Bajkowski (1970–72)
Ryan Belka (2012–15)
Bruce Bickford (2005–08)
Jake Bunting (1994–96, 98)
Andrew Chapman (2007–08)
Robert Church (2010–13)
John Colt (1988–91)
Adam Crystal (2004–07)
John Daskalakis (1960–62)
Nick Falcone (1959–61)
Lynn Ferguson (1969–71)
Dennis Fink (1976–78)
Patrick Friel (2000–03)
Steve Grossi (2005–08)
Stas Kotula (1996–99)
Mark Manos (2009–12)
Matt McCormick (2007–10)
Ben McIntosh (2011–14)
Jeff Miller (1974–77)
Robert Montgomery (1971–74)
Dennis Murray (1976–79)
Robert Paradis (1977–80)
Ira Peezick (1973–75)
Scott Perri (2008–11)
Alan Rosenstein (1957–59)
Jed Salter (1991–94)
Nick Saputo (2012–15)
Theodore Schwaab (1948–51)
Edgar Stier (1947–50)
William Thayer (1956–58)
Frank Tufano (2009–12)
Dana Wilber (2009–12)
Richard Young (1950–53)