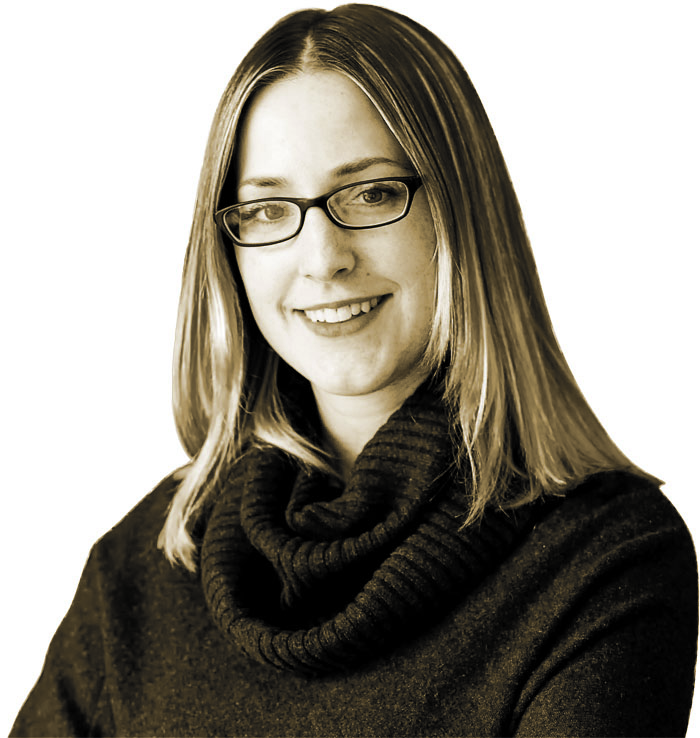 Soon after the "40 Under 40" edition mailed, I received a handful of letters, most of which are printed on the opposite page.
What's with the cover? everyone wanted to know.
One person made his point (and made me smile) by mailing the magazine back, after drawing dresses, flowers and ponytails on the six men with the question, "Where are the women?"
I responded to just about everyone, though probably, my answer fully satisfied no one. My senior editor and I consider race, gender, age distribution, sexual orientation, academic discipline, geography and other targets that aren't visible to readers in the "40 Under 40" selections, and although we don't achieve perfect representation on every level, we aim for it constantly because we, too, expect the "40 Under 40" to reflect Drexel's pluralism. A couple of people noted that apart from the cover, the edition was quite heterogeneous, and thanks for that. I like to think that, surveyed as a whole, our covers are likewise a varied sampler of Drexel's people, programs and missions.
For the "40 Under 40" edition, I chose an image that spoke to me of ingenuity, entrepreneurialism and collaboration.
But for some, the set of exclusively male engineers on the cover said that Drexel doesn't value women in STEM fields.
That isn't the message I intended, but I'll own it. And I'll try to amend the record, out of respect for the many efforts by faculty mentors, academic departments and student groups at Drexel to move the needle on female representation and leadership in STEM.
Drexel's values are expressed in programs such as the Center for the Advancement of STEM Teaching and Learning Excellence, DragonsTeach and the University-Assisted School initiative in the School of Education, which foster STEM learning and teaching opportunities for all. The full story is everything that individual faculty and departments do to encourage girls to pursue STEM education, such as the College of Computing and Informatics' initative to increase female enrollment by 50 percent in five years; "Robot Springboard" summer camp for middle-school girls; Introduce a Girl to Engineering Day; the Academy of Natural Sciences' Women in Natural Science program, which has introduced hundreds of high school girls to science in its 35 years of existence; and outreach to girls through organizations like the Girl Scouts, Franklin Institute and charter schools. Student groups like the Society of Women in Engineering, a 30,000-strong national organization that was founded at Drexel with administrators' support; Women in Physics; and the Women in Computing Society, which recently won a grant for a mentorship program for high school girls, are some of the proto-professional networks nurtured on campus. And at the leadership level, Drexel has graduated 81 fellows to date through the ELATE program, which advances senior women faculty in STEM fields into leadership roles where they can be role models and advocates.
That ecosystem is the fruit of many individuals contributing time and resources to address the issue in a concrete way that goes beyond appearances, and on their behalf I hope readers won't judge the University by a single cover.
Sincerely,
Sonja Sherwood / Editor