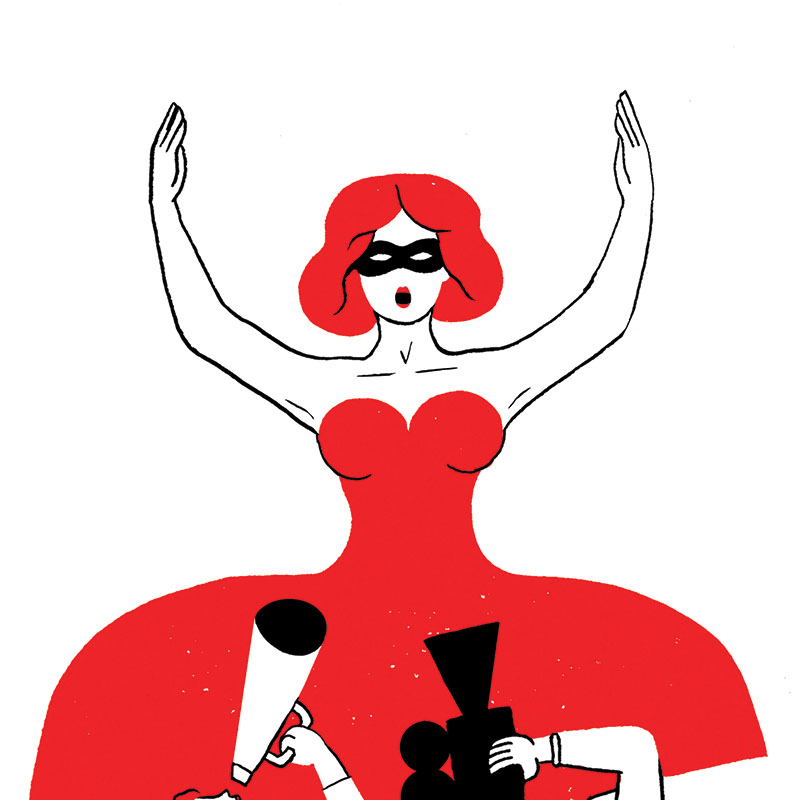 College is all about inspiring students to reimagine what they're capable of. Professors challenge students to tackle difficult problems, to find unexpected ways to understand the world around them and to re-evaluate how they do things.
But at Drexel, that's only the beginning. Here, experiential education is crafted into the curriculum. Students learn by doing, and they do things students at other universities don't, in class settings you don't see everyday. In some of Drexel's most innovative courses, students untangle the real legal problems of community members, produce professional-caliber live events, and create feasts for hundreds. They're taking the ideas they're learning and applying them in real-world ways.
In the pages that follow, we've profiled some of the ways that Drexel demands students go beyond the classroom. We'll bet that at least one or two of these remarkable courses will make you wish you were a student again.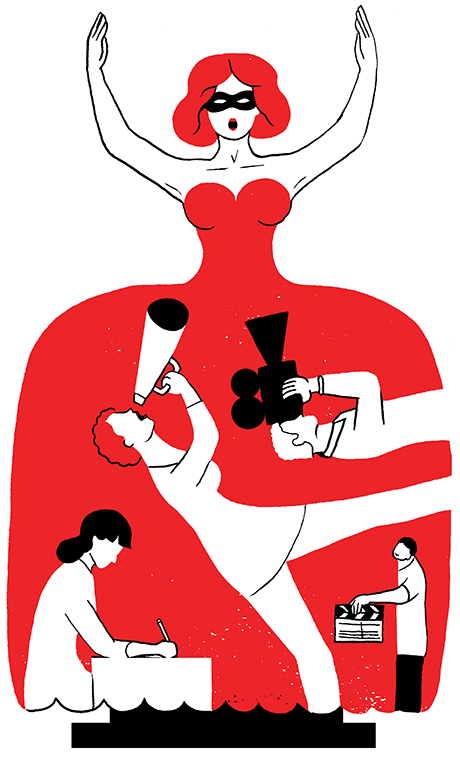 When Lauren Weedman, one of the stars of HBO's television show "Looking," offered to come to Philadelphia for a week in 2014 and do a series of theatrical shows based on her visit, she agreed to bring her best ideas and energy. And the 15 students in Assistant Professor of Entertainment and Arts Management Brannon Wiles' "Producing for Live Entertainment" course agreed to tackle absolutely everything else.
During the 10-week term, students worked at a full-out sprint to make sure every detail was taken care of: They found and booked a local theater space, they created a contract, and they purchased insurance. They handled marketing and social media promotion, and they arranged travel and housing for Weedman.
"Although a lot of the students have been exposed to different production elements in some of their coursework, putting them all together and actually having to do it really allows them to see how much goes into even modest productions," Wiles says.
Students quickly learned the importance of working together to make sure that every detail was nailed down. In the end, the shows that resulted from the project, called "Well I Think You're Beautiful, Philadelphia," proved to be particularly satisfying to the students who helped shepherd the production from start to finish.
"At its best, this work is about collaborating with artists, engaging with them, and helping make sure that all the production work is done in service to them and their work," Wiles says.
In the rush to cover as much ground as possible in a single term, professors often try to cram dozens of classics into their syllabi. Students might blast through a series of Picasso paintings in a half-hour, "Hamlet" in a class period, Hemingway in a week.
Pennoni Honors College's one-credit great works courses are the opposite. Professors spend the entire term intensely focused on a single topic, whether that's the movie "Rosemary's Baby," the Manet painting Olympia, or Vladimir Nabokov's "Pale Fire." (President Fry even carved out time during his busy schedule to teach a course on Jane Jacobs' "The Death and Life of Great American Cities.")
"These courses are the anti-binge," jokes Paula Marantz Cohen, dean of the college and an instructor for four such courses.
Students take time to relish the details of the works they explore, and many find that the detailed discussions that result are often more illuminating that those that come from courses covering 10 times more ground.
These "great works" are as relevant today as they were when they were first completed, says Cohen. "In the course I taught about 'Hard Times,' we talked about labor issues, gender roles and education. These were issues that Charles Dickens was talking about in the context of 19th century England that are enormously relevant in 21st century America."
Law students spend plenty of time hitting the books. But in the full-year "Community Lawyering Clinic," students have an opportunity to put their legal knowledge into practice for neighborhood residents who need it most, regardless of their ability to pay for it.
Under faculty supervision, upper-level law school students staff an office in Drexel's Dornsife Center for Neighborhood Partnerships and work with Mantua and Powelton Village residents on an array of issues, from employment discrimination to conflict resolution. Students learn to do intake interviews, represent clients, and they even take some clients to trial.
Housing issues are in particular demand, says law professor Susan Brooks. "For example, a house that's been passed through generations of a family might not have any of [its current occupants] on the deed to the home," she says. "But if they owe taxes on the property and want to work out a payment plan with the city, they can't: The city generally won't work out a plan with anyone who's not on that deed."
Unsnarling knotty problems for vulnerable people may be the nominal goal of the course, but Brooks says it's also about much more than that. She hopes that students see that they can make a meaningful difference in people's lives. "Our approach is about taking every person who comes through our door as a whole person, and as an important individual who deserves all of the time and resources we can give them," says Brooks.
When students sign up for the memoir-writing class "Once Upon A Lifetime…So Far," they join up with another group of students who could hardly be more different: inmates in Philadelphia's Curran-Fromhold Correctional Facility.
But as the students and inmates explore their lives through a series of writing prompts and discussions, they often discover more similarities than differences. The course is part of a series of "Inside-Out" courses at Drexel that open up learning opportunities in alternative settings, including prisons, senior citizen centers and farms.
Assistant Teaching Professor Cassandra Hirsch nurtures discussions with icebreakers for pairs of students. She might give everyone a slip of paper with a word on it — "sister," "frying pan," "orange," — and ask about the memories and associations the words evoke.
The discussions and the writing that result often help all the students to realize what they have in common. "Maybe they discover that they're both the oldest in their family, they love the same music, or they went to the same elementary school," Hirsch says.
While a big goal of the course is to help students tell their own stories, Hirsch also wants them to see how rich and varied everyone's stories can be.
"The novelist Chimamanda Ngozi Adichie [who briefly attended Drexel] talks about 'the danger of a single story,' which is the idea that we can be on the receiving end of a single story about who we are based on our appearance or our dress or the way we talk," she says. "I want the 'Outside' students to see that their 'Inside' peers are more than their county uniforms. We're all human beings."
For aspiring young doctors, learning the ins and outs of human biology may seem like the essential task of medicine.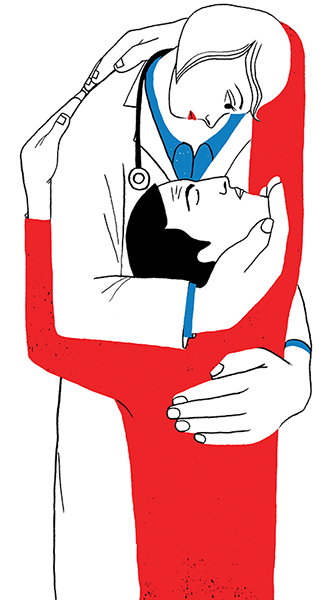 But Florence Gelo, associate professor in the College of Medicine, knows that biology is only half of the puzzle necessary to be a successful physician. "We know that no matter how much knowledge, technology and diagnostics a doctor has, what really matters to people is having a doctor who cares and who treats them as a whole person," she says.
That said, it's not easy for students with relatively limited life experience to carefully observe and empathize with patients. That's why Gelo developed the course "Training the Physician's Eye," which uses art from the Pennsylvania Academy of the Fine Arts to help students hone a compassionate bedside manner.
Students study paintings including "Christ Rejected" by Benjamin West, which illustrates the biblical story of Jesus rejected by the high priests and given to Pilate to be crucified, and "State House on the Day of the Battle of Germantown" by Peter Frederick Rothermel imagining the aftermath of the battle.
These complex and emotionally intense paintings have proven very instructive, says Gelo. Students learn to observe without immediately making interpretations, and they mine their own experiences to find ways to connect with the emotions expressed in the art. "The suffering and pain is evident, and you can teach people to observe and identify with that experience," she says.
These skills, in the end, help students become the doctors who are best able to serve their patients, says Gelo. "What are patients telling us, even if they're not saying it?" she says. "We want students to develop emotional intelligence and truly connect with others."
Richard Pepino knows that every fruit and vegetable holds endless opportunities for transformation. The course instructor for "Foundations of Pickling and Food Preservation" says even though there's typically just a short window to harvest fruits and vegetables at peak freshness, the right preservation methods can capture those intense tastes and bring summer's best flavors to every other season.
In his course, which was open to both community members and Drexel students last summer, Pepino started with the basic science of pH and acidity balance, jarring processes and a few other fundamentals. Students learned to make classic recipes such as bread and butter pickles and blueberry preserves. They moved on to fermentation processes to make kimchi and sauerkraut, and tackled dehydration methods to make spices such as jalapeño powder.
The course was interspersed with several field trips, including some to family and urban farms. "Things like hydroponic gardening are helping create more sustainable farming, and they're revitalizing urban environments," says Pepino, who is executive chef of the Academic Bistro, a campus "restaurant" that serves meals made with food grown and prepared by culinary students. "It's important to be aware of some of these practices."
By the end of the course, Pepino turned students loose to make their favorite recipes for a community "tasting menu," made from food grown at the nearby Green Meadow Farm. "Some students made simple strawberry jams. One student made pizzelle cookies in the shape of tacos, filled them with homemade corn ice cream, and topped them with pickled rhubarb," he says.
Nearly 300 people attended the tasting, and not one went home hungry.
During his time as an astronaut, Ron Garan Jr. joined just a handful of people throughout history who have seen our planet in its larger context, suspended in the blackness of space. That experience, as well as working alongside space travelers from many nations on the International Space Station, strengthened his belief that it was essential to bring a more cohesive view to the priorities of our planet. "I wanted people to have a much broader perspective of what the word 'home' means: It's our planet. How should we be treating each other? How should we be treating the planet?"
That idea launched a book and a Drexel course taught by Garan called "The Orbital Perspective." The course covers how to work with diverse groups of people, promote peace and confront massive challenges collaboratively.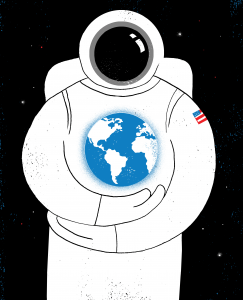 Students in the course participate in Earthrise 2068, a project designed to help people around the world craft a vision for a better planet, including the concrete milestones that are essential to get there. The name of the project is a reference to the centennial anniversary of the iconic Earthrise photo taken by the crew of Apollo-8 in 1968. Says Garan: "We're asking: What are the principles that we as a civilization want to be operating under then? How do we rid the world of hunger? How do we make sure everyone has access to clean water?"
It's not simply a project students will do in class and discard. They, along with others, worked on a call to action that was delivered at the United Nations General Assembly in the fall. "Our intent is to nudge the trajectory of our society onto a path that we think is better than the one we're on right now," says Garan. "And we hope that the students who work on this project — people who will be here in 2068 — will help us get there."
Most savvy investors would balk at the idea of handing millions of dollars to a group of college students and letting them loose on the stock market. At Drexel, though, that's just the experience business students get — with a professor's guidance, of course.
The Dragon Fund — overseen by undergraduates in the two-part "Applied and Advanced Portfolio Management" course — opened in 2007 with $250,000 of the University's endowment. With the help of three other deposits in the past decade and some impressive gains realized by students, the fund recently crossed the $2 million benchmark. It might seem like a hefty sum to entrust to unproven investors, but it's the best way for students to learn the skills they'll need in the professional world, according to Daniel Dorn, an associate professor of finance and the course's instructor. Once they leave Drexel, their portfolios will be a few figures larger. "We want to prepare students for positions in firms that have billions of dollars to invest," Dorn says.
Students split into small teams and scour a business sector for an area poised for growth, then narrow their choice to a specific company and deliver a funding proposal to prove its worth. A recent group dug deep into the energy sector to find a medium-sized drilling company that fit the fund's interests, thinking all the while about growth forecasts, trend lines and the measure of risk involved.
All told, the Dragon Fund has outperformed its benchmark (the S&P Midcap 400) and the broader U.S. market for the most recent one-, three- and five-year periods, and has done so since its inception. It offers students a taste of what they'll get after graduation that leaves them ready to scale up.
"Who says, 'Hooray, there's a 22-year-old who I want to give millions of dollars'?" Dorn offers. "It doesn't typically happen. It's very difficult to break into this industry, but this is a way to give them experience managing money with rigorous rules and all kinds of techniques."
Information security is about more than just writing airtight code and thwarting clever hackers. It's also about managing our very worst enemies: ourselves.
"We all have mental heuristics that can cause problems in security, whether it's the [undisciplined] way that we choose our passwords or the mistakes we make when we're thinking about risk," explains Associate Professor of Computer Science Rachel Greenstadt, who teaches "Security and Human Behavior."
The course explores some of the most common psychological principles that make us vulnerable to hacking, identity theft and similar issues.
For example, you've probably had security update requests pop up on your computer screen at inopportune moments, like when you're hard at work on deadline or crafting a difficult email. If you've ignored the installation request, you're not alone. "There tends to be a lot less compliance for the request when people are doing some other task," she says.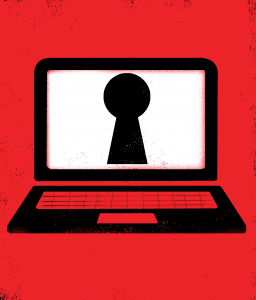 The takeaway? Find ways that people can install updates without distracting them from the things they're focused on in the moment.
The bigger lesson is not that humans are cavalier with their computer security, but that developers must both understand and take our quirks into account when building the systems that are designed to keep our most vital information safe.
In the end, Greenstadt hopes that the lessons of the course change the way students act today — and the way they work with their employers in the future.
"I hope that students bring these ideas to their own experiences with computer security — like using a password manager," she says. "And I also hope when these students go on to work for software companies, they can bring this thinking to life to build better security systems for others."
Two years ago, the Hospital of the University of Pennsylvania approached Donna Trinkaus and Deanna Schaffer, assistant clinical professors in Drexel's College of Nursing and Health Professions, for some help. Facing a national nursing shortage, especially in the operating room, the hospital sought to partner on an immersive experience that would turn out students prepared to step into the void. So Trinkaus, chair of Drexel's Co-Op BSN Program, worked with the perioperative development specialists at Penn to design a week-long intensive to fit the bill.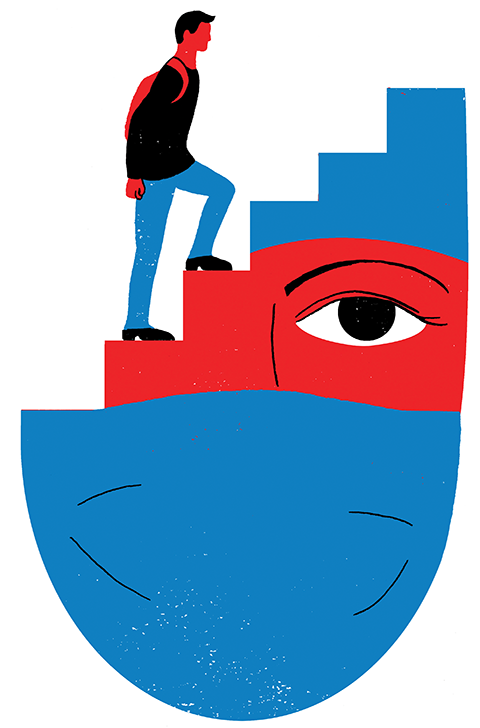 For one packed 40-hour week, 15 students get crash course experience in a unique corner of the nursing profession that isn't often found in course catalogs anymore.
"When I went to nursing school 30 years ago, we had rotations in the operating room," Trinkaus recalls. "They're no longer in nursing schools, so students don't get the exposure they used to have. This is exposing them to something that's been taken out of the curriculum."
In addition to lectures, students in the immersion course experience simulated operating room procedures — an immediate opportunity to apply lessons learned in the classroom. Early in the program's life, the results are evident. The hospital has hired nearly two-thirds of the students who have taken the class, and other institutions have checked in with Trinkaus about starting similar programs, she says. For the future nurses enrolled in the course, it's been a clear success.
"They absolutely love it," Trinkaus says. "It affirms they were right that this was something they wanted to do."
Elementary students don't typically jump an entire grade level from 10 weeks of reading and writing practice. When they're getting one-on-one tutoring from Drexel students enrolled in "Literacy and Content Skill Development," though, that type of progress is on the table. The course pairs School of Education students with severely delayed readers and writers to give both groups a unique learning opportunity.
Drexel students receive the course's contents online — lectures, readings, quizzes and all — and skip the college classroom in favor of one at West Philadelphia's Morton McMichael School, where they give individualized attention to K-8 public school students in their areas of need. Mary Jean Tecce DeCarlo, an assistant clinical professor in the School of Education, circles the room, coaching her students as they coach students of their own. It amounts to what DeCarlo calls a "professional experience."
"They often talk about it as the first time in their education courses that they're responsible for student growth," DeCarlo says. "And almost across the board they say this completely recommits them to teaching. They think, 'Now I can make a difference.' Everybody's going to have a kid in their class who doesn't read at grade level. What are you going to do to support them? This class is part of the toolkit."
An engineer needs to know how her designs will function in their intended destination, whether it's a building, a car or the human body. For Drexel's biomedical engineering students, who have the latter target in mind, there's no better way to learn than by getting up close with a cadaver.
Students in "Musculoskeletal Anatomy for Biomedical Engineers" get a firsthand look at the joints, muscles, ligaments and bone structures they aim to bolster with their designs — an anatomical scavenger hunt of sorts, as Noel Goodstadt calls it.
Goodstadt, an associate clinical professor in the College of Nursing and Health Professions and one of the course's two rotating professors alongside Clinical Professor David Ebaugh, says getting into the lab with real cadavers helps ideas click into place for his students. "Some of the structures they look at don't necessarily run a straight line," Goodstadt says. "Muscles wrap around bones at different angles, almost like the pulley systems they learn about in engineering classes. To see that and see the forces at work when muscles are contracting plays a huge role in them thinking about design."
The course began as a field trip, Ebaugh says, when another class in the School of Biomedical Engineering, Science and Health Systems touched on the subject of human anatomy and asked to visit his lab to view some prosected joints. The glimpse of tissue and bone sparked interest in something more permanent.
Students rave about the chance to see the materials from their textbooks in the flesh, so to speak, and Ebaugh and Goodstadt are sure to show them examples of the solutions they might one day create themselves.
"We always have a few joints that have artificial prosthetics in them," Goodstadt says. "We leave that as the last thing to show them because it gets them the most excited."
Shannon Márquez has been researching health systems in Western Africa for more than 25 years, so in many respects she's seen it all. But for the students she brings to Senegal and Gambia for two weeks each summer, the field experience offered by her "Global Health Integration Module" course can be transformative.
After an online course filled with readings and training on everything from ethical considerations in public health to the social context of how health is considered on the ground, students embark on one of two field experiences. In Senegal and Gambia, one section studies maternal child health, while a counterpart group travels to Cuba to study community health and the environment. Students visit community sites and organizations, meet with public health professionals and learn about local health practices and policies. It's a one-of-a-kind chance to synthesize everything they've learned in the public health curriculum.
"So many students have had life-changing experiences from this class, and it's helped them formalize the trajectory of their careers," says Márquez, vice provost and clinical professor in the Dornsife School of Public Health.
There are guest lecturers from local institutions, but there isn't much time spent sitting in class, Márquez says.
In Cuba, where the health care system is viewed by many as a model for international success, the visit drew a stark contrast to the current crisis in American health care, Márquez says.
"It was eye-opening for them to see that if you set up a health system with a primary focus on prevention and access to health care for all citizens — rather than a major focus on treating diseases, expensive diagnostics and pharmaceuticals, and health insurance coverage as a determinant of access to health care — you could develop a more cost-effective health system that prioritizes keeping communities healthy," Márquez says.
It's the type of insight students just can't get without setting foot in the field, she says.