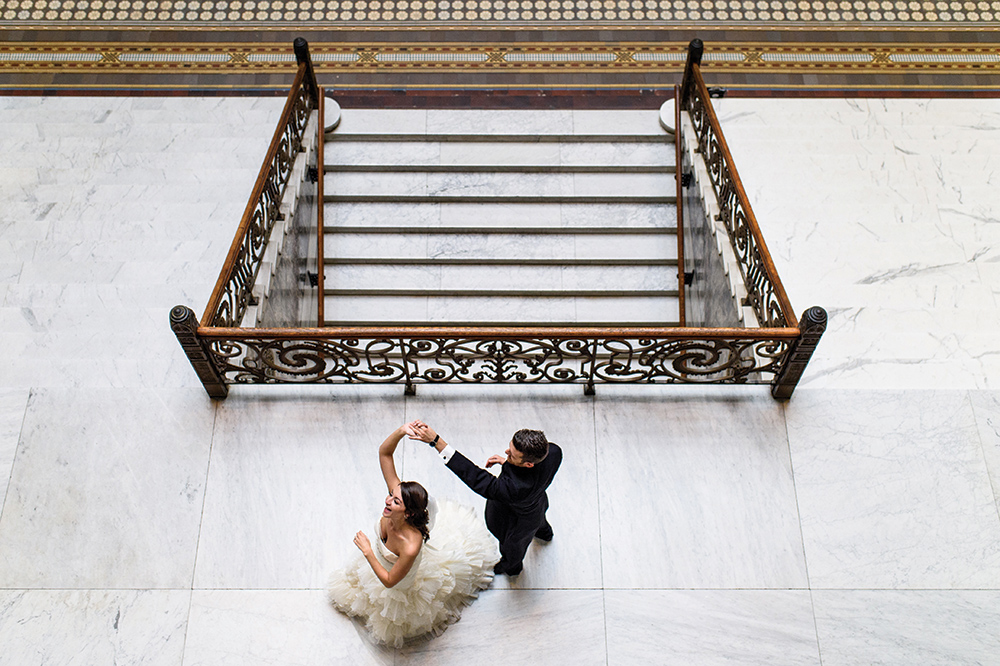 Darlene Smith Dierkes (BS communications '12) and her husband James (BS/MS chemical engineering '12) met in North Hall in 2010. The two were resident assistants and — as many love stories begin — they started out as friends. And then one day James asked Darlene on a date.
"We started dating, and it feels like we must have gone to every restaurant in Philly," says Darlene.
Darlene recalls how their relationship grew over the next two years, creating memories in places around campus and Philadelphia, like the first time they talked about getting married at Mad Mex in University City.
James proposed at the beach in 2014 and the couple began to plan their Aug. 5, 2016, wedding. While there were many decisions to be made — from the dress, to the flowers, to the food — choosing the location for their pre-ceremony photos was the easiest one of all.
"We knew we wanted to go back to where our relationship first started," Darlene says. "We couldn't imagine not going back there on our wedding day."
The bride and groom chose the iconic campus spot, the Great Court in Main Building, as the backdrop for their first images. From there, they set out to take pictures in other meaningful spots around campus and in Philadelphia, like the carousel at Franklin Square and City Hall, before heading to Blue Bell, Pennsylvania, for the ceremony.
Several fellow Dragons attended the wedding, and Justin Peterson '11, Sonia Jain '12, Matthew Bui '11, Daniel Fornace '11 and current students Erin and Kyle Dierkes represented Drexel in the wedding party.
The couple are now both pursuing careers in the medical field. Darlene graduated from nursing school and James, a medical school graduate, has started his residency in anesthesia. While they currently live in Bethlehem, Pennsylvania, they hope to one day make their home in Philadelphia, the city where their lives as a couple began. — Lara Geragi