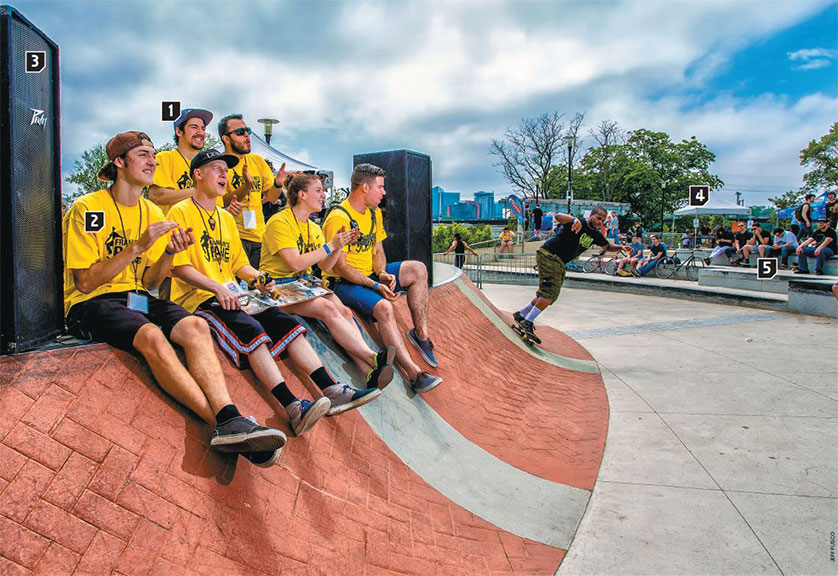 5.9.15 Paine's Park
Love was in the air and printed on the banners flying over Paine's Park on May 9, when a team of Drexel cohorts transformed the skateboard haven into a free all-day street festival full of live music, food, artists and even circus acts.
The LOTS fest — which stands for "Love on the Streets" festival — was the city's first-ever street festival in a skate park, and the organizers hope to make it an annual fundraising event that will raise donations for nontraditional youth education programs inspired by skate park activities.
"Without programs for these parks they'll just become disheveled and no one will care about them," says Joe Esposito '15, the executive producer of the event. "Many cities have lost their skate parks because they never put programming around them. So the 'love on the streets' is the love for the city and Philadelphia and it's all geared toward making the park a loving and sustainable place."
1 /// The idea for the festival was Esposito's, a lifelong skateboarder and freshly minted graduate in entertainment and arts management from the Westphal College of Media Arts & Design. The festival is the culmination of his co-op last year with Franklin's Paine Skatepark Fund, the nonprofit that builds and maintains skate parks throughout the city. There, Esposito gained the know-how to put together the ingredients for a good street fair while attending trade shows on FPSF's behalf.
2 /// The five members of the event team spent six months organizing the festival between classes at Drexel. Sitting in the bottom row: Matt Olenik '15, Aaron Harel '16, Emily Egan '15 and John Landers '16. Standing in the back row: Esposito and Mike Canals, the event co-producer.
3 /// Seven Philadelphia bands performed on a stage set up in the center of the skate bowl. The headline acts were the punk outfit Radiator Hospital and the electronica band Moon Bounce.
4 /// The skateboard-themed restaurant chain Wahoo's served as the official food sponsor. Stationed along the periphery of the park were food trucks and art vendors that included Getup (The Electric Factory's in-house artist) and the local artist MSM Soul.
5 /// An estimated 1,500 to 2,000 people visited the festival, and it all went perfectly, says Esposito. "There was no beef or any problem with anybody; it was just a very loving day," he says. "I'm enthralled about how people were and the feedback we're getting from people saying it was so well planned, and how smooth it was. I'd like to one day use this as my own business model and take this to other cities."