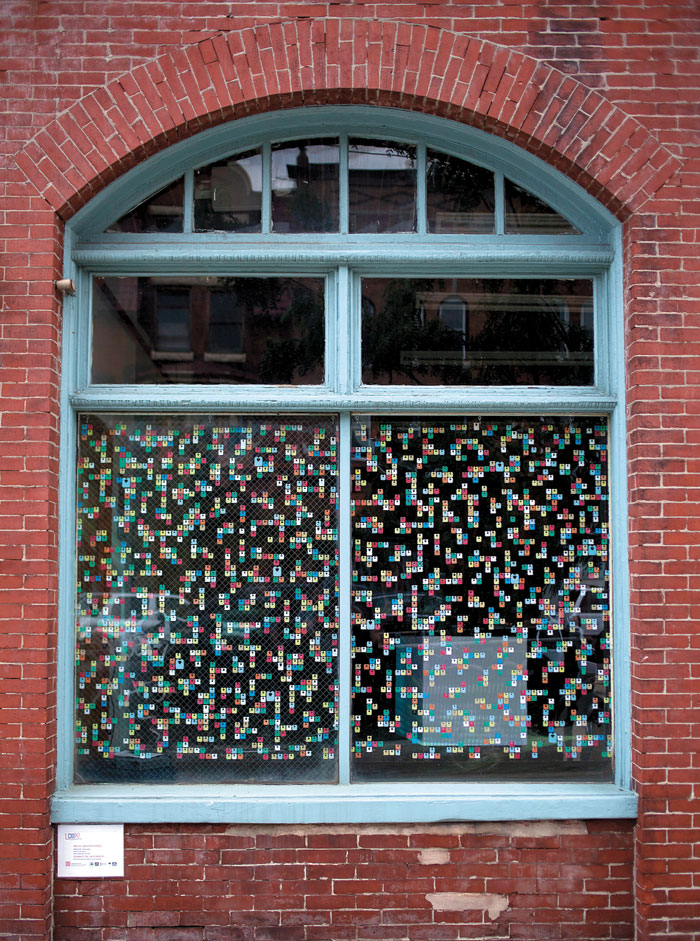 First you notice the abstract mosaic in the shop window, the Lancaster Avenue street scene reflecting in the spaces between the bright scales on the glass. Then you realize the oddly shaped tiles are plastic tabs that once closed bread bags. The name of the work is "Celebrating the Uncelebrated," by Drexel assistant teaching professor Paul Schultz, and it is one of the many intriguing pieces featured during LOOK! On Lancaster Avenue, an innovative public art project, launched earlier this fall, that provoked new ways of seeing the commercial corridor neighboring Drexel's campus.
The LOOK! On Lancaster Avenue project grew out of the nexus of long-time neighborhood connections and Drexel President John A. Fry's commitment to community outreach.
When Fry hired Lucy Kerman as Vice Provost of University and Community Partnerships earlier in the year, Blaise Tobia made it a point to introduce himself. An artist and a professor in the Art and Art History Department, Tobia has lived in Powelton Village for 20 years. Until recently, he was one of only three full-time faculty members who called Drexel's neighborhood home.
"John Fry and Lucy Kerman both believe that the arts are a key way to make cultural and economic improvements to communities," he said. When Kerman told him she wanted to meet local artists and arts leaders, Tobia put together a contact list and began making calls. "At first we didn't have a project in mind—we just wanted to build relationships," Tobia said.
But when the possibility of a grant from the City of Philadelphia's ReStore Corridors Through Art program emerged, Tobia made formal plans for collaborative project between Drexel and the neighborhood. LOOK! On Lancaster Avenue was conceived as a series of storefront displays, in keeping with the goal of the grant program—specifically, revitalizing commercial districts through the arts.
Drexel ending up more than matching the city funds, and also lent the talents of its faculty, administrators and students. Other neighborhood institutions, including the University City District (UCD), got involved as well.
"We moved on an accelerated timetable," said Tobia. "Because I'm an artist and I've lived in the neighborhood for 20 years, I know a good portion of the artists. I reached out to them, and I asked them to reach out to people they knew who I didn't know."
A group of about 40 artists and leaders began scoping out the avenue—photographing the buildings, contacting the landlords and finally putting out a call for proposals for each wall and window site.
They received more than 200 proposals. A jury of highly respected West Philly artists selected the 12 best.
In keeping with the LOOK! name, many projects inspire double takes, contrasting and harmonizing with the public art and commercial signage along the Lancaster Avenue corridor. A brightly painted security grid offers vibrant contrast to a weathered building. Digital images of horses recall the history of a former stable. Wheat-paste images of chairs and tables in a one-time furniture shop appear to have always been there, almost as familiar as the landmark painted signs at Honest Lou's Exterminators.
Tobia coordinated a galleries committee that ended up including about eight shows, some of which are in "pop-up galleries – spaces that are not normally art spaces. For example, the People's Emergency Center had a beautiful large storefront in need of a tenant.
"We thought we could revitalize the space by putting a gallery in it," said Tobia. "Bonnie McAllister, who has a record of curating shows, wanted to do a show of the women from the neighborhood, so it features nine women artists from West Philadelphia."
Another installation at 3820 Lancaster retold the history of neighborhood using advanced technology. Over the summer, media artist Hana Iverson paired Drexel communications students with residents of the Lancaster Avenue neighborhood to create "Augmented Avenue: Memories of Lancaster." The collaborative art project offers visitors a new way to experience the neighborhood through "augmented reality."
Members of the community narrated their stories and memories, while the students recorded them with mobile technology, creating a photo and sound collage using a digital storytelling platform designed for creating pop-up books but retrofitted for martphones. By using smartphones, viewers experience the real world and a digital overlay at the same time.
The storefront of 3852 Lancaster Avenue was another space that had been vacant, but on the night of September 29, it overflowed with life. The landlord made the space available for a lively opening that included music, dance, food, presentations and several hundred artists, faculty, administrators, and community members.
"We see this as a step in Drexel building relationships with the neighborhood—and revitalizing it," said Tobia. "Powelton has a very strong sense of its identity, and Drexel understands it needs a viable surrounding neighborhood in order to be a flourishing university." Paul Schultz, the artist who collected bread tabs from more than 300 people to create his unique window panels, was energized by the project and its reception.
"It was perfect for Lancaster Avenue, which has so many flavors and people committed to different things and connected to each other," Schultz said. "The project was about opening up new realms when you look at something. That's when transformation happens—when you see something new you didn't see before." — Kelly Andrews