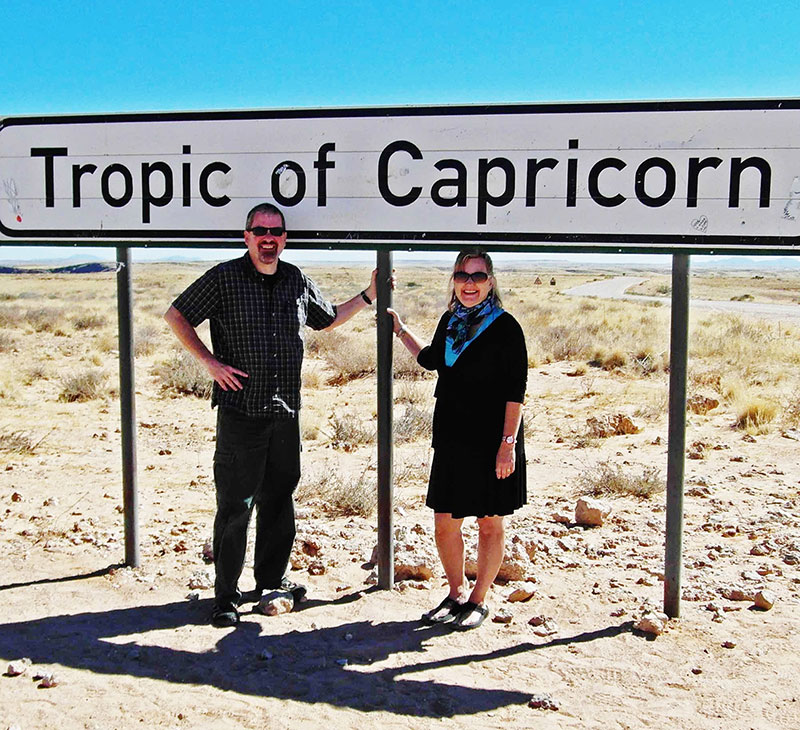 Life wasn't working out like we had planned. I guess it never does. You hit bumps in the road, or a detour that takes you out of your way for a while. Eventually life's road smoothes out, the detour ends and things are normal enough to handle the next bump when it arises. But what do you do when the detour takes you further and further from the main road, and the bumps become the rule rather than the exception? You can ride along aimlessly getting your teeth rattled, or you can grab a bulldozer and create a whole new road.
In August of 2011 that's exactly what we did. My husband Michael and I sold our house in suburban Philadelphia, jettisoned most of our belongings, put our professional careers on the back burner and jumped on a plane to travel the world for a year. We would forge ahead into new territory with an open-ended airline ticket, our new road yet to be mapped.
It was a drastic step to take, but one we finally realized was a necessity for our own health and well-being. Our life had gotten off-track. Circumstances with our adult daughter, whom we adopted from Russia at age 9, had deteriorated. We slowly realized that we needed to move forward with our lives and extract ourselves from an enabling situation that was draining us emotionally, physically and financially. We needed distance: thousands of miles, hundreds of days and totally new worlds would help us to chart new paths.
We had long dreamed of taking a round-the-world trip, and once the realization hit that we needed to make a significant break from our current situation, long-term travel was our first thought. We would circumnavigate the globe, with an open itinerary, collecting experiences and creating a new roadmap for our lives.
So how did we go from a fully furnished house in the suburbs, filled with years of accumulated objects, to living out of our suitcases? What started out as a grand adventure—"Hey, let's travel around the world for a year"—became practically a full-time job as it morphed into a giant "To Do" list containing over one hundred items: sell the house and cars, find travel health insurance, get many vaccinations for diseases we didn't know still existed, and on and on. The few possessions we hadn't sold or donated were packed into a 10-foot square storage facility. We left for a year, for parts unknown, and all we were taking was what we could each carry in a 22-inch suitcase and shoulder bag.
It would not be a year long vacation—that implied lying on the beach with umbrella drinks. The word that summed our adventure up best was "sabbatical." We weren't part of an academic institution, but we were seeking intellectual growth and a break from our normal routine. Our sabbatical would involve traveling and evaluating what the next phase of our life would become. To chronicle our journey we created a website called "Changes in Longitude" (changesinlongitude.com) the name reflecting our circling of the globe as well as the changes we were making in our lives. The Philadelphia Inquirer featured our articles in an ongoing travel series.
We left with no set itinerary other than a goal to travel around the world. Renting flats and cottages helped immerse us in neighborhoods off the well-trodden tourist path and live like locals in unfamiliar cultures and places.
One night during the Tet holiday we got lost in our neighborhood in Saigon and ended up at a Buddhist convent, where the nuns graciously invited us to pray with them, demonstrating serenity in that frenetic city. A family in a small village in northern Israel invited us into their home for coffee and dessert. They spoke matter-of-factly about enduring rocket barrages from nearby countries over the years.
A cattle rancher in Australian bush country showed us that the joys of the wide-open spaces overcame the hardships of ranching, as an evening roundup in his battered truck turned into an impromptu kangaroo viewing safari. Speaking with local families out for a picnic in North Korea showed us that while the country's government is repressive and cold, its citizens are friendly. Spending the night in a Bedouin camp in Jordan gave us an appreciation for a nomadic lifestyle. As we continued to see the world from different viewpoints, we learned more about ourselves.
Along the way we adapted to a simpler life. As the world became our home, our need for personal space shrunk. Comfortable with fewer belongings, we wondered why we kept all that stuff in storage back home.
The growing readership we've gained from our blog, as well as the series we've written for the Philadelphia Inquirer, confirms that the concept of a career break is intriguing. The tagline for our website is "Just Go Already!" We hope to inspire others who want to shake up their lives. If a middle-aged couple like us can do it, so can you.
After six continents, 25 countries and 100,000 miles we have gained a new perspective on our prior life and learned to accept things we cannot change. We will not return to our former careers. Instead we will create a new career that builds upon our travel writing and international expertise. The future is not mapped out completely, but that's not as daunting as it once was. We've swapped an abundance of belongings for a wealth of experiences. The trip may have ended, but the journey's just begun. ♦
Have a story to share with the Drexel community? Send us your commentary ideas at magazine@drexel.edu or thyland@drexel.edu and you might be featured in the next issue of Drexel Magazine.