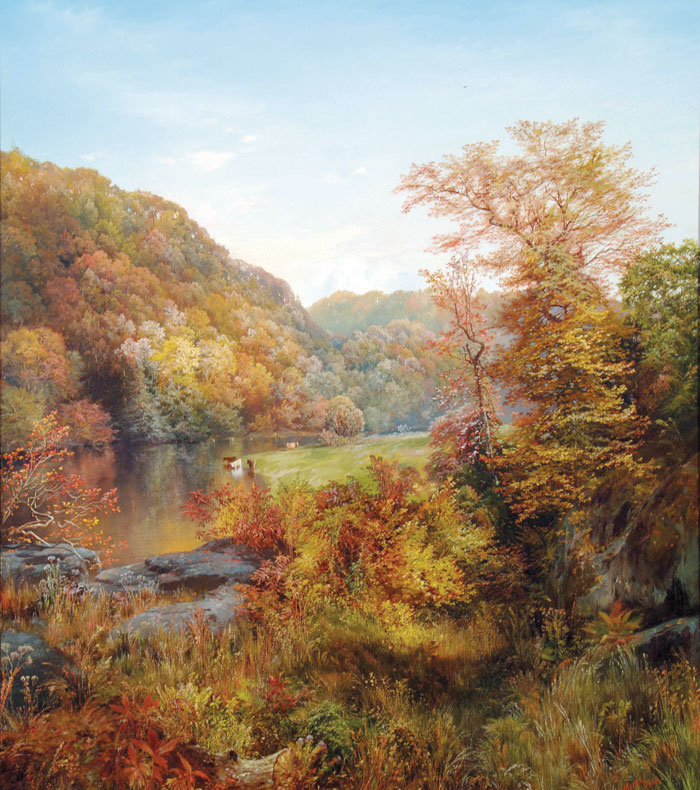 Autumn on the Wissahickon, a magnificent landscape of Philadelphia's woods along the Wissahickon Creek, by Thomas Moran, is one the most significant paintings in The Drexel Collection.
Moran's paintings illustrate his interest and skill in capturing the beauty of nature in the forested landscapes of Philadelphia, the mountains and rivers in Yellowstone National Park and the Grand Canyon and the coasts of East Hampton, Long Island.
Moran (1837–1926) was born in Bolton, Lancashire, England to a family of textile weavers. The Morans emigrated to America in 1844 to escape the hardships of the Industrial Revolution in England and settled in Kensington, a working district in Philadelphia that was a financially dependable location for immigrant textile workers. Thomas, along with his other siblings, showed artistic talent at a young age.
Moran studied in the Philadelphia school system until age 15 and then apprenticed with the engraving firm of Scattergood and Telfer. He found the engraving process tedious and began painting with watercolors and oils. In 1856, Thomas and his brother, Edward, also an aspiring artist, rented a studio in Philadelphia. He had his first exhibition at the Pennsylvania Academy of the Fine Arts in 1856.
Initially, Thomas Moran's artistic style was influenced by the Philadelphia artists Paul Weaver (1823–1916), a landscapist, and James Hamilton (1819–1878), a student of the works of the British artist James Mallord William Turner (1775–1851). In 1862, Thomas Moran traveled to the British Isles with his brother, Edward, to see Turner's original works. Turner's use of intense color influenced Thomas Moran's landscapes throughout his life.
Thomas Moran painted Autumn on the Wissahickon in October and November of 1863. He stated that the painting was "incited by a most glorious Autumn." The painting was sold by the James S. Earle & Son Gallery to Anthony J. Drexel in May, 1864.