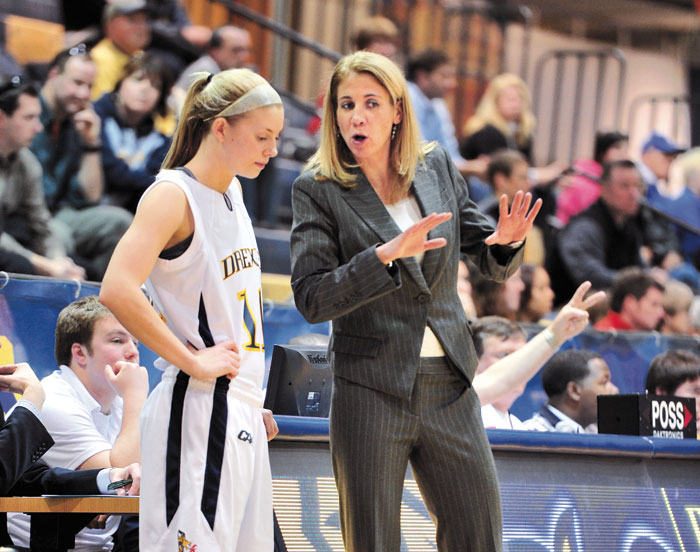 After a 19-13 run in 2010, Denise Dillon's Dragons are aiming even higher in 2011.
By Britt Faulstick

The Drexel women's basketball team opened its season on Nov. 11 in hopes of continuing its historic run of success.Pursuing an unprecedented fifth straight winning season and fourth consecutive postseason berth, the 2010-11 Dragons are in the midst of what could be considered a golden age for the program.
Included in this era of success is the team's first Colonial Athletic Association Championship and NCAA Tournament appearance, the program's first upset of a nationally ranked opponent (over No. 25 James Madison), the first home sell-out crowd to witness a women's basketball game at Drexel and the team's first Postseason Women's National Invitation Tournament berth. With that success comes the pressure of playing with expectations to maintain it.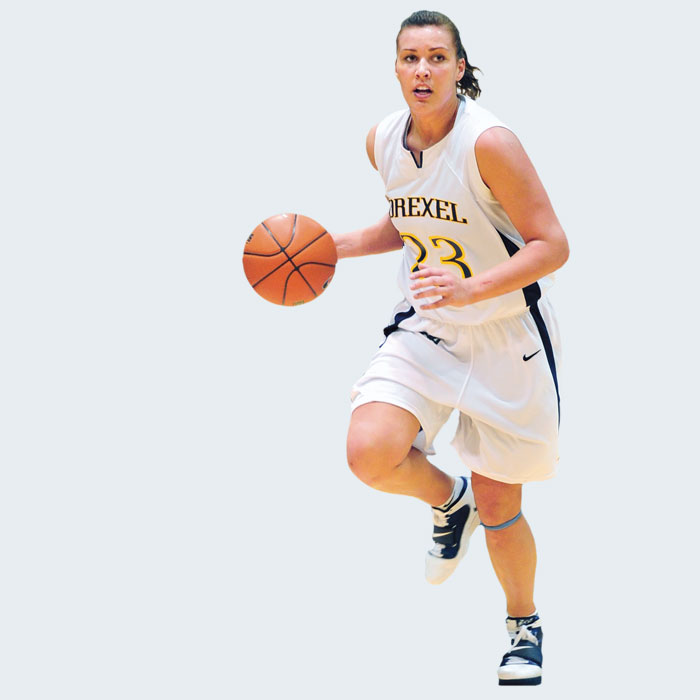 "We've gone from teaching [the players] how to compete, to teaching them how to win," said coach Denise Dillon. "Our goals now are to finish in the top three or four in the conference to earn a bye in the conference tournament, give ourselves a good chance to win and play in the postseason."
The Dragons have three important factors in their favor this year: a deep roster full of experience and talent, an extended preseason that included an exhibition tour of Italy and a challenging non-conference schedule that will prepare them for conference play.
Ten Dragons return from a team that went 19-13 and earned a Postseason WNIT berth last year. Among them, seniors Marisa Crane, Kamile Nacickaite, Tyler Hale and Ayana Lee are the final hold-overs from Drexel's 2009 CAA Championship team and are playing to lead their team back to title contention this season.
"We have challenged the seniors to get back to the championship and to lead the team," Dillon said. "After winning the championship as freshmen, they might have thought it was a given to be there every year. Now they know how tough this league is and how hard they have to work to get back there. But they know we're good enough to do it."
Aside from a mid-season injury to Crane last year, this core group has played in more than 90 percent of Drexel's games over the last three seasons. Nacickaite led the team in scoring and rebounding last season and ranked top five in the nation in three-point accuracy. Including Nacickaite, four starters are returning this year and junior Hollie Mershon, who took over point guard duties in Crane's absence last season, will slide into a starting role as a shooting guard.
The Dragons benefitted from an early start to preseason on an exhibition tour of Italy in September. An NCAA provision allowed the team to start practicing earlier in the year than usual in order to prepare for competition on the trip. The team played four games against quality Italian teams and enjoyed some good bonding time while touring the country.
"The trip to Italy really helped us in preseason," Dillon said. "It allowed our new players and two who were injured last season to get back on the court in game-type conditions. And it was four games against good opponents. Really the biggest advantage is just being away from everything with no distractions, it's a great opportunity for team bonding and to experience some of Italy's amazing history."
In addition to the foreign odyssey, the Dragons further front-loaded their schedule with an appearance in the Preseason WNIT. The tournament guarantees the team a chance to play at least three games against a field of quality opponents to open regular-season play. The field includes, among others, national championship runner-up Notre Dame, a Baylor team that went to the Elite Eight, and NCAA qualifiers UCLA, Hartford and McNeese State. Throw in a non-conference meeting with Women's Basketball Hall-of-Famer Dawn Staley's South Carolina squad and the Dragons should be well-prepared for the start of conference play in January.
Playing against high-level opponents, Dillon claims, has been an important element to the team's success because it not only attracts players to the program, but it prepares them to face more physically imposing and talented teams.
"Within the NCAA, the players know the big names and the top teams," Dillon said. "Having the chance to play against that kind of competition is one of the reasons kids want to play Division I basketball."
Last season the team saw some significant returns on this investment in scheduling with first-time wins over Penn State and Villanova. The victories helped punch Drexel's return ticket to the Postseason WNIT and also served as a rallying point throughout the season as Penn State rose to No. 23 in the national polls and lost only two more games at home all season. The Dragons also faced 2011 NCAA Champion Texas A&M in a San Diego holiday tournament.
With a similar performance this season, the Dragons could quickly turn the weight of their expectations into positive momentum by season's end with their goals well within reach.