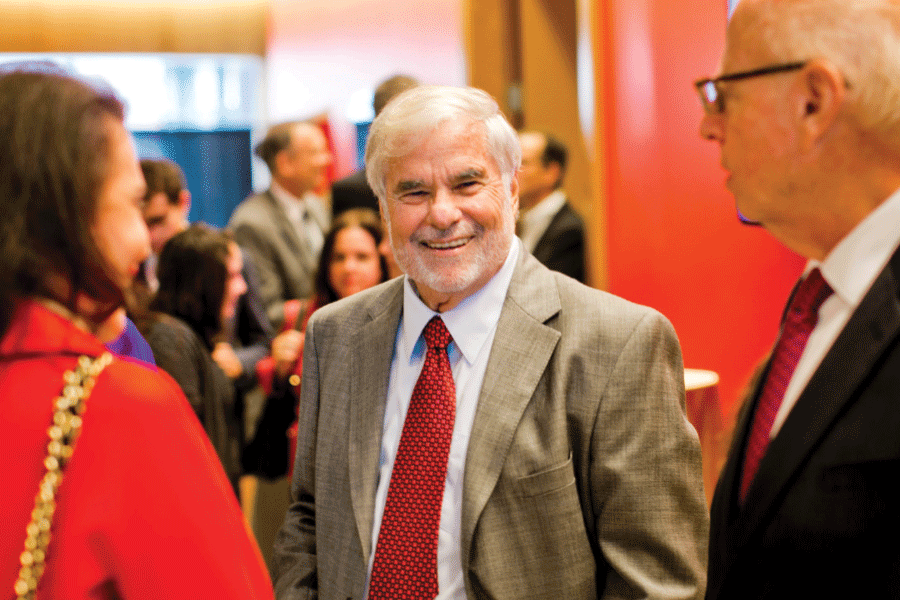 Bennett S. LeBow, BS '60, HD '98, a businessman and philanthropist who is also the namesake of Drexel's LeBow College of Business, was recently named to the U.S. Army Cadet Command ROTC Hall of Fame. He was one of only seven former cadets chosen out of 275 ROTC programs.
LeBow enrolled at Drexel in 1955 after graduating from West Philadelphia High School and earned his BS in electrical engineering in 1960. He served in ROTC throughout his years at Drexel, and entered the U.S. Army on active duty in 1962, serving as a first lieutenant in the U.S. Army Signal Corps stationed at the Pentagon.
In 1964, he began working at the Pentagon, as a civilian, serving as a special assistant to the assistant vice chief of staff, a four-star general who LeBow describes as "one of the smartest people I've ever met." This general tasked him with the creation of a computerized inventory system for the U.S. Army, specifically for the Vietnam War.
LeBow says that he loved being in the service, especially during his time at the Pentagon. He also says that the skills he learned and perfected while in the U.S. Army would lead to his future success in business.
In fact, his next move was to start his first business: a computer company in the Washington, D.C., area that contracted with the government. He went on to have an illustrious career, including serving as the chairman and president of Western Union Corp., Liggett Group Inc. and Vector Group Ltd., plus many other smaller ventures.
To date, he is Drexel's single largest benefactor, having committed over $75 million, mostly to the LeBow College of Business.
Lieutenant Colonel Lawrence F. Camacho, chair of Drexel's Military Science Department, says he nominated LeBow because "his contributions to the nation are exemplary, and he is a role model and the epitome of success. His utmost dedication and contributions to society are beyond reproach, and he is truly deserving of this esteemed honor."
The mission of ROTC is to develop future commissioned officers of the U.S. Army. The program was created in 1916, and has been an important part of Drexel since 1918.