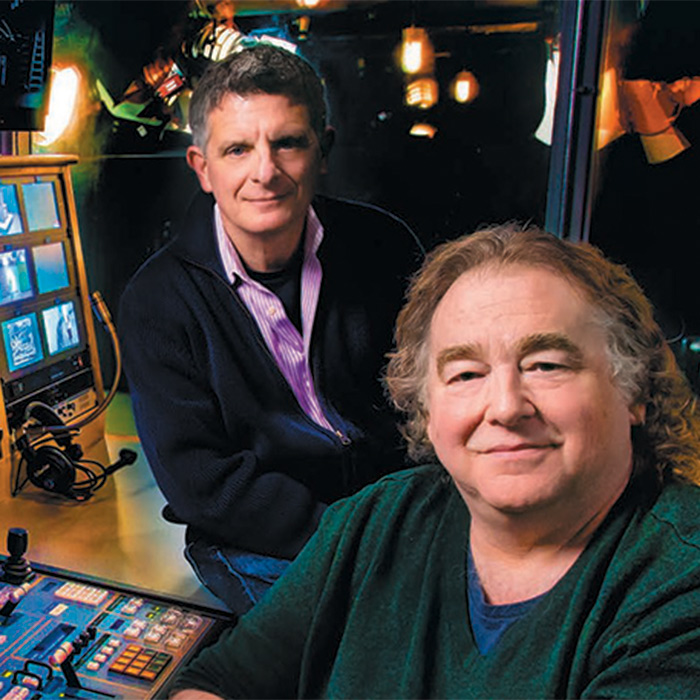 12.2.2013 — Paul F. Harron Studios
These days, high definition is everywhere. laptops, mobile devices, television channels, e-readers — they're all equipped with HD screens. it's hard to remember what life looked like before we could see the tiniest facial blemish or a single blade of grass on the football field. the television industry has adopted HD production and broadcasting full on — and Drexel is keeping pace.
This past summer, the Paul F. Harron studios in the Westphal college of Media Arts & Design underwent a major high-definition video upgrade to its main studio facility, home to the University's DUTV channel, which produces the student-run news magazine "DNEWS." the studio's purpose is to provide Drexel students with real-world experience in television management and production; it's only natural, then, that the studiobe outfitted in what is now the industry standard.
Studio and DUTV Manager Dave Culver and his team installed new wiring, hardware and equipment for the upgrade, saving the University nearly $180,000 and reducing the studio's energy use by about 35 percent. the next phase includes the installation of HD LED lighting fixtures and additional set pieces created especially for use in high-definition studios.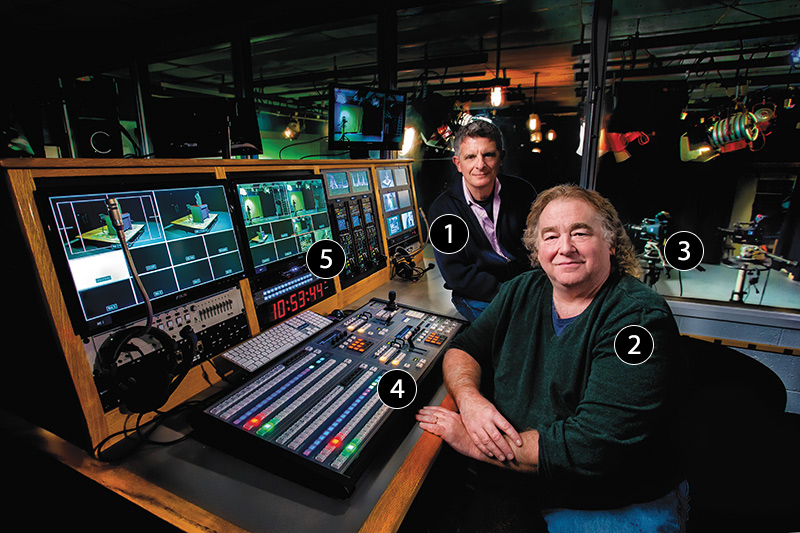 Department Head. Andrew Susskind came to Drexel in 2008 to become program director of Drexel's newly created undergraduate television major, following an accomplished career in television. For years, he ran Imagine Entertainment, Ron Howard's production company, and was senior vice president of comedy development at Embassy Television. He worked on a number of popular sitcoms including "King of Queens," "The Hughleys," "Married with Children" and "Parenthood."
Studio Manager. Dave Culver, affectionately known as "the Reverend," is general manager of the studio and an associate teaching professor in the Cinema and Television program. With his
experience behind the scenes in the television business, Culver led the studio's renovations last summer and will see them through to completion. When will that be? the details for phase three are up in the air, Culver says, because "the tv and video industries are changing so quickly, you can't possibly know what you're gonna need in two years."
And…..Action! three new SONY cameras produce beautiful full-color, high-definition pictures and require far less light than the old standard-definition cameras. Less lighting means less energy used, resulting in major cost savings.
Special Effects. An upgraded video production switcher — fully digital and high definition — makes it possible to create far more complex and sophisticated video effects than were possible with the older equipment.
Professional Grade Equipment. New LCD-screen monitors replaced old CRTs, or cathode ray tube monitors, that used far more energy. A new all-digital routing switcher makes all signals, inputs and outputs infinitely combinable, making it possible for students to configure the studio in a number of different ways and simulate numerous production environments. And, upgraded camera control units were installed to operate the new studio cameras. Upgrades to the studio were funded by support from the office of the Provost as well as continuing support from the Kal and Lucille Rudman Institute for Entertainment Industry Studies. Since the upgrade, all episodes of "DNEWS" have been and will continue to be produced in HD. "DNEWS" won its third consecutive Telly Award in June as well as the Mid-Atlantic chapter of the National Academy of Television Arts & Science (NATAS) College Production Award of Excellence for Best College Production Newscast in 2012.