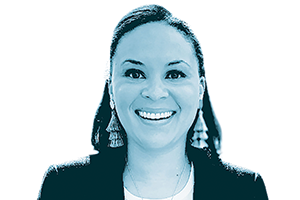 There won't be any "one-size-fits-all" approaches from Drexel's newest staff therapist, who will also be the first to be embedded in both the Counseling Center and the Center for Black Culture.
Robia Smith-Herman was named staff therapist and embedded BIPOC (Black, Indigenous and people of color) specialist in January. A licensed certified social worker, Smith-Herman received her MSS in clinical social work from Bryn Mawr College and brings a decade of experience.
Her arrival reflects Drexel's embrace of a 2021 report by Drexel's Anti-Racism Task Force, in which Black students recommended hiring diverse counseling staff. Citing that report, President John Fry noted a resolve to create a more inclusive and equitable campus.
"You can't turn a blind eye to systemic racism and all the things that disproportionately affect BIPOC individuals," she says.
Smith-Herman relies on integrative therapy that incorporates components of cognitive, dialectical and other forms of behavioral and mental health treatment and focuses on the unique ways that the social environment affects different individuals, to help them shape and tell their own stories.
"It's OK to come in and talk about whatever is important to you in a space that's not judgmental," Smith-Herman says. "Accessing a therapist isn't a scary thing."