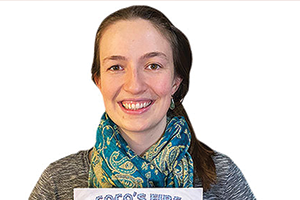 A chance encounter at the Academy of Natural Sciences of Drexel University inspired a doctoral student to co-author and illustrate a book that lets young children comprehend the perils facing the planet.
It started when Lena Champlin, who is pursuing her PhD in environmental sciences at the College of Arts and Sciences, engaged a young girl in conversation while she conducted community outreach work at the Academy. After asking the girl what she knows about climate change, Champlin was stunned when the mother intervened to say the topic was off limits. Embracing that moment as an opportunity, Champlin decided to join her fiancé, University of Pennsylvania medical student Jeremy Wortzel, in writing a book that explains the process of climate change in language that would engage school-age children.
Thus, "Coco's Fire: Changing Climate Anxiety to Climate Action" was born. Geared toward early elementary school students, the book follows Coco the squirrel and her father as they seek ways to stop climate change. In the process, things that initially worry Coco wind up inspiring her to get to work.
By providing a model for how to have "The Climate Talk" with children, the book tackles apprehension that could prevent some parents from passing along life-saving information.
Champlin and Wortzel, who is studying psychiatry, teamed up with the Climate Committee of the Group for the Advancement of Psychiatry in crafting the message. The goals were to communicate in an age-appropriate way and instill hope for the future.