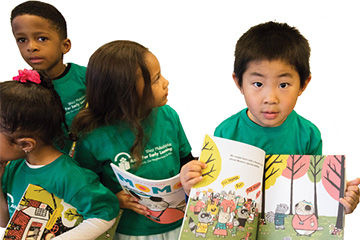 Two grants totaling $2.6 million will support Drexel University's efforts to improve early childhood education in the West Philadelphia Promise Zone.
Promise Zones are high-need, low-income neighborhood regions around that country that have been federally designated for preferential loans and economic development. Drexel took a lead several years ago in helping parts of the Mantua and Powelton Village neighborhoods to receive the designation.
The grants will support Drexel's West Philadelphia Action for Early Learning Initiative (AFEL) over the next three years. Vanguard Strong Start for Kids Program awarded $1.63 million to the program and the William Penn Foundation provided $987,000.
The West Philadelphia Action for Early Learning Initiative is a Drexel-led collaboration of social service, education and community agencies working to create an education support system for local families to encourage kindergarten-readiness. AFEL was formed in 2014 with seed money from the Lenfest Foundation after a William Penn Foundation planning grant revealed a detrimental dearth of high-quality early childcare providers in the neighborhood.
| 26% | 48% | 13% |
| --- | --- | --- |
| more local children enrolled in high-quality care | increase in the number of childcare providers to improve their quality rating | improvement in the average early literacy scores among West Philadelphia children |