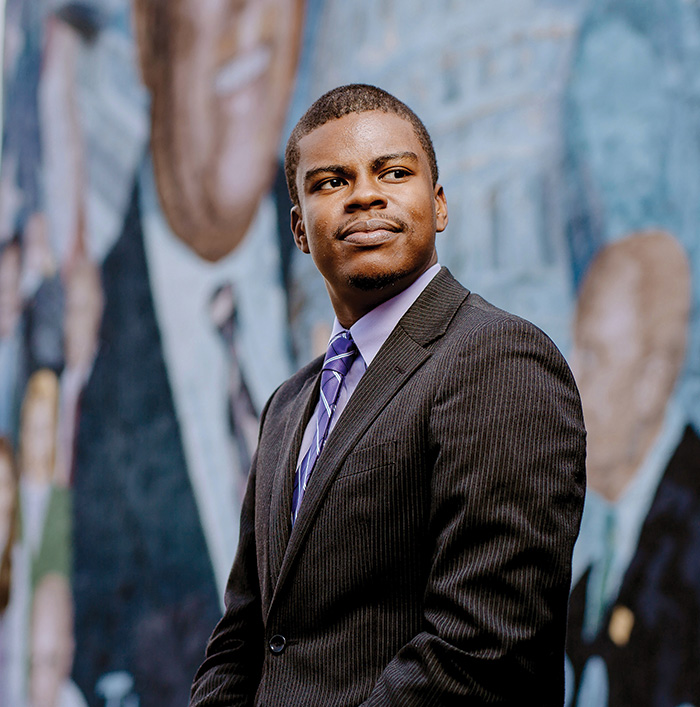 Age: 22
BS business administration '16
Founder, West Philadelphia Corridor Collaborative
Jabari Jones took Drexel's commitment to civic engagement to heart and founded a business improvement collaborative in West Philadelphia while still a student.
At 22, Jabari Jones '16 is young to be a community booster, but he has a plan. Things get better, he says, when people start new businesses.
"Entrepreneurship is the best way we can build a community, especially in West Philadelphia, where there are large percentages of poverty and unemployment," he says. "As new businesses are created and are successful, we see median household incomes rise, we see people take ownership in their community by buying property. We see the entire community improving."
While still at Drexel completing his BS in business administration, Jones began putting those ideas into action by founding the West Philadelphia Corridor Collaborative, a grassroots collaboration that is the largest association of businesses in West Philadelphia.
He has reached out across the community in various ways, in an effort to spur positive activities. He helped forge a partnership between the Baltimore Avenue Business Association and the Lancaster Avenue Business Association to get a trolley on both corridors during the holiday shopping season.
He works with local high school internship programs to encourage entrepreneurship, and he advocates for local real estate development efforts. He's the youngest member of the board for the 30th Street Station District Plan, which aims to develop 175 acres of real estate over the next 35 years. As a member of the 30th Street Station business roundtable, he creates strategies to prioritize local hiring and procurement for small businesses.
Jones says his enthusiasm for civic improvement was sparked at Drexel, while on his first co-op with West Philadelphia Financial Services Institution, a community empowerment and economic development nonprofit.
"[The co-op] put me in contact with multiple small business owners and we talked about what could be done to better support those entrepreneurs," he says. "After I concluded my first co-op I wrote a report on how to better serve underserved communities."
That effort inspired Jones to submit a proposal to President John Fry suggesting ways the University could better connect with local small businesses. While a student, he worked with senior administrators to develop and implement new policies, including a civic fellowship program for students who wanted to work on community projects.
Effecting change at this level isn't easy. "For folks who want to start businesses there is a lack of organized resources," he says. "There are not a lot of places to go to find mentorship, resources, business plan support. And typically these are people who don't really have the resources to hire consultants."
Despite the hurdles, he says, boosting these budding business owners elevates the whole community. "When you support and strengthen the business owners, everyone draws strength," he says. — Adam Stone