Well Worth The Effort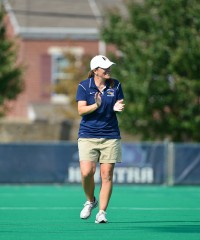 Women's field hockey - Denise Zelenak arrived at Drexel 18 years ago with big dreams for a then-little program. After nearly two decades of hard work, those dreams have come to fruition.
Lindsay McArdle wanted to go to college "as far away" from her Upper Darby home as possible.
Then she met Drexel field hockey coach Denise Zelenak.
"I was on my way to a clinic [at Drexel] my sophomore year [of high school], and my dad was like, 'Why don't you go here?' I was like, 'Absolutely not,'" the junior midfielder recalls. "I went to the clinic and I fell in love with Denise and the team and the environment here, and I got in the car and said to my dad, 'I want to go to Drexel.' As soon as you meet her you get this genuine feeling that she really cares about her players."
When Zelenak took over the program 18 years ago, she was a fiery 25-year-old first-time head coach with sky-high expectations of herself and her players. Over the years, the program has changed—but Zelenak's expectations haven't.
"The program was very different, the school was very different," she says. "It was the perfect place for me because I could keep pushing and growing, and I actually got to develop with the University itself. Getting the team to match my expectations took a lot of years of recruiting. The players that stuck with it, I give them a lot of credit."
Zelenak deserves plenty herself. In 2009, she led Drexel to its first-ever berth in the NCAA Tournament, and last season the Dragons won the Colonial Athletic Association Tournament for the first time. Both were monumental achievements for Zelenak, who reflexively deflects praise to her players.
Tellingly, she uses the pronoun "their" instead of "our" when discussing her team, a subtle distinction that reveals much about the way she views coaching.
"Last year was not a perfect season. There were ups and downs," she says. "But to be able to watch them win CAAs, there are no words. That's their championship. You do the things you can for them to come together as a team. They're a wonderful group of people, so it's even more fun to cheer for them."
Zelenak was a diehard soccer player before she picked up a field hockey stick in 10th grade. She was hooked. At West Chester University she played an aggressive center-mid and studied education with the thought that she would become a teacher. She was partially right.
"The program was really strong, and there were so many West Chester [alums] in coaching that between the camps and the clinics that we did with them year round I just walked into [coaching]," she says.
After stints as an assistant coach at Penn, Drexel and West Chester, Zelenak took over the Dragons in 1994. But her playing days weren't over. From its inception in 2004 to 2011, she was a member of the U.S. National Indoor Field Hockey team, helping the Americans win a silver medal at two Pan Am Games. In 2011, she was named the team's head coach.
The indoor version of the game is faster and higher-scoring than its outdoor counterpart. The court is longer and wider than a basketball court, the ball bigger and lighter than the outdoor field hockey variety. In March, the team traveled to South America where it finished with a 3-3-1 record against Argentina, Argentina's under 19 team, and Uruguay. For the series of friendlies Zelenak brought a mixture of players from the junior national and national teams, all of whom have an eye on Team USA's ultimate goal: qualifying for the 2015 World Cup.
"As soon as you meet [Zelenak] you get this genuine feeling that she really cares about her players."
"I feel really positive that they learned a lot of things," she says of her team. "We now have more players with international experience. For me that's going to make the team more competitive, make selections a little bit tougher, but improve our game."
Zelenak's coaching philosophy is to instill in her players a deep knowledge of the sport so they can react on the field.
"You want to give them as much information as possible so that when they're out there they can see it, fix it, play the game truly and wholly," she says. "When they're playing they shouldn't be looking over at us, they should be looking at their opponent figuring out how to beat them."
Coaching at both the international and collegiate levels keeps the game "fresh" for Zelenak.
"You're always learning or seeing something from someone else's perspective and grabbing new ideas, new processes, new skills," she says. "The more things I see that are new and different, the more I get to bring back to my Drexel team. The biggest thing you need to learn as a coach is it all changes. You can't do one thing for 20 years."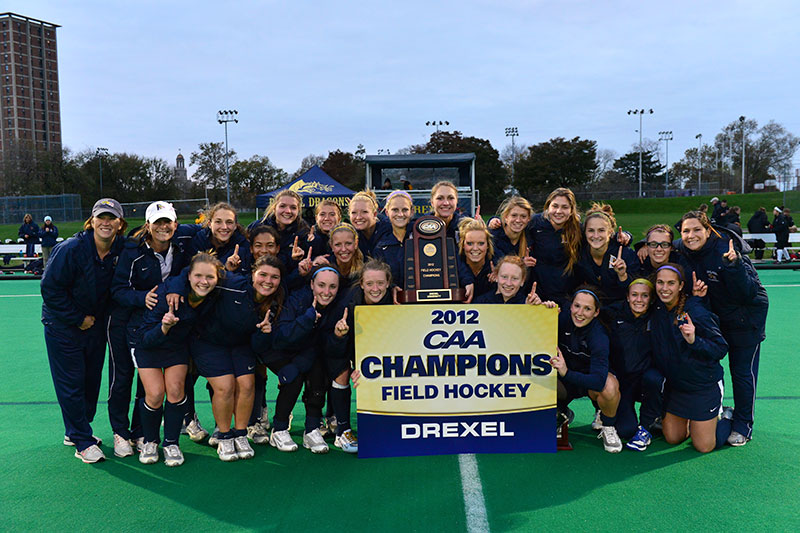 Yet in many ways, Zelenak has. She's always been a teacher. She's always pushed her teams, demanding that they compete. And she's always put her players first.
"She's a real person who cares about people instead of just her job," McArdle says. "I hear horror stories from friends of mine who play at other universities. They tell me all the time how lucky I am to play for Denise. There have been times where we go through some rough patches, and coach knows that sometimes we just need to loosen up. She'll bring music out to practice when she knows that we're really tense. She tries to make it a light environment and create some fun games, make it competitive at practice. She likes to invest time into her players and she'll do whatever she can to help us through hockey, life, school."
McArdle is thrilled with her decision to travel all of 20 minutes away to go to college. She knows that there's no place like home, and there's no coach like Denise Zelenak.