All in the Family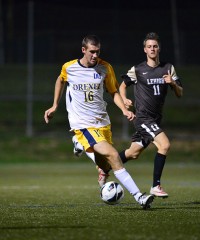 Men's soccer - His mom was a volleyball star, and his sister was a scholarship soccer player. With his success so far at Drexel, Ken Tribbett is doing his part to uphold his family's tradition of sporting success.
Last fall, in the wake of one of the most successful seasons in program history, Drexel soccer star Ken Tribbett was named a second-team all-CAA performer—and the honor was more than justified.
The 6-foot-2 junior midfielder scored four goals on the season, including two game-winners, and he led the Dragons to a CAA regular-season title and, just as important, a bid to the NCAA tournament.
As the Dragons look ahead to what should be another winning season in 2013, Tribbet spoke to Drexel Magazine about how he ended up studying sport management in Drexel's Goodwin College of Professional Studies, his memories of last season, and the long legacy of athletic success in his family.
You grew up in suburban Denver. What are some of the decisions that led you to Drexel? It was basically due to soccer. I wanted to play Division I college soccer. Doug [Hess] recruited me kind of late, and I committed in April. I did not get a lot of offers. Doug came in the same year I was coming in, and it kind of worked out perfectly.
There are so many changes these days in college sports and with members leaving Division I conferences, including the CAA. Most of this is driven by football, a sport Drexel does not have. What is it like being a student-athlete at Drexel? I enjoy it. Not having football, I don't really mind. We have a basketball team that drives the most fans. We are behind them and lacrosse, maybe. It gives us a little more attention (with no football team). Soccer has been my favorite sport since I was three years old. It is one I truly love. It is my passion. It is something I want to do the rest of my life. I think I want to be a coach when I am done playing.
You will be in your senior season this coming fall. What goals do you have for your team and specifically what do you want to achieve before your college career is over? Obviously we are coming off a strong year last year, making the NCAA tournament. Next year I want to take it a step further. We won the CAA regular-season last year. For me I want to win the [CAA] tournament as well. My sister went to Penn State and they won the Big 10 title. She has all of these rings. Personally I want to get one of those rings.
What are your memories of last season? Winning the CAA title; we clinched it at home. It was a great feeling. Unfortunately I was not able to celebrate after the game. I went to the hospital to get some stitches in my head. As soon as the final whistle blew it was pure joy. We won the CAA outright. Unfortunately we lost in the first round of the NCAA tournament.
When did you start playing organized soccer? I was born in California and lived there until I was about 5 years old. I started playing soccer almost since I could walk. I have been in sports all of my life. My mom played college volleyball and pro volleyball. As soon I was born I was in the gymnasium. Soccer was a natural for me. It took over my life.
Your sister played varsity soccer at Penn State. How much did you talk to her about her experience there and how did that affect your college choice? When [my sister] came in she was behind a national team goalkeeper. She was used to playing all of the time. Coming in as a freshman, I wasn't sure if I would be playing. Not a lot of freshmen get to play their freshman year. I asked her what it was like not to play. Luckily I was able to earn a starting spot and played right away.
Your mother also played sports in college and was a two-time national champion in volleyball at Pacific. Does she talk much about that? I never saw her play professionally. It was cool to interact with her and share what she went through. When they won the national title they were underdogs. She came off the bench to spark the win.
So who is the best athlete in the family? That is a tough one. My mom used to be. They won a couple of national championships. My sister has accomplished more than I have. She won some national titles at the youth level. I want to say it is me, but I think my family would fight me on that one.
If you had to draw up a perfect post-graduation transition what would it look like? Perfection for me would be after this year to go to [major league soccer] and play in the league. That has been my dream since I was a little kid. I know you can't play soccer forever. When I am done I would like to be a coach. I would like to finish up working at the college level [as a coach].
Who do you see as the men's soccer team to beat in the CAA this coming fall in men's soccer? Probably Northeastern and JMU. They are the two top programs in our league. Hofstra did very well last year. It should be good competition. Everyone is so good. You can't take anything for granted. I think last year we were picked near the bottom and we won the whole thing.
Doug Hess was named the Drexel coach in January 2010, a few months before you came to Drexel. What has it been like to play for him? He stresses possession and going forward and playing with speed. He is not [saying], "Kick the ball long and go chase." I am not the biggest, the fastest or the strongest. I like to get the ball and go and play. It worked out for me.