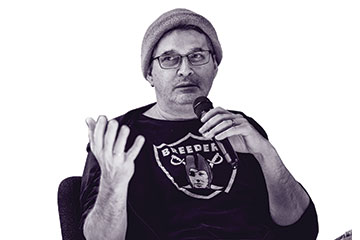 Legendary Chicago-based musician and audio engineer Steve Albini kicked off Drexel's Music Industry Program's new Visiting Lecture Series in November.
Westphal College of Media Arts & Design Assistant Teaching Professor Joe Steinhardt started the series to give music industry students and the public access to influential individuals in the industry.
"Being able to give these types of unique opportunities to our students is truly one of the most fun parts of my job here, and represents one of the things that makes our music industry program so special," Steinhardt says. "Equally important to me is making sure the events at night are free and accessible to the general public. I do not think culture and knowledge is something that should only belong to a privileged few."
Albini brings a similar inclusive ethos to his own work. Despite having formed such influential bands as Big Black and Shellac, and then working as a producer and engineer for Nirvana, the Pixies, Joanna Newsom, Superchunk, Cheap Trick and the Stooges, Albini told the audience that he tries to say "yes" to nearly any artist who expresses interest in working with him, even though his reputation could afford him more selectivity.
"I still think that any resource of mine is a resource of the community's," Albini says. "That was a guiding principle behind building the studio."