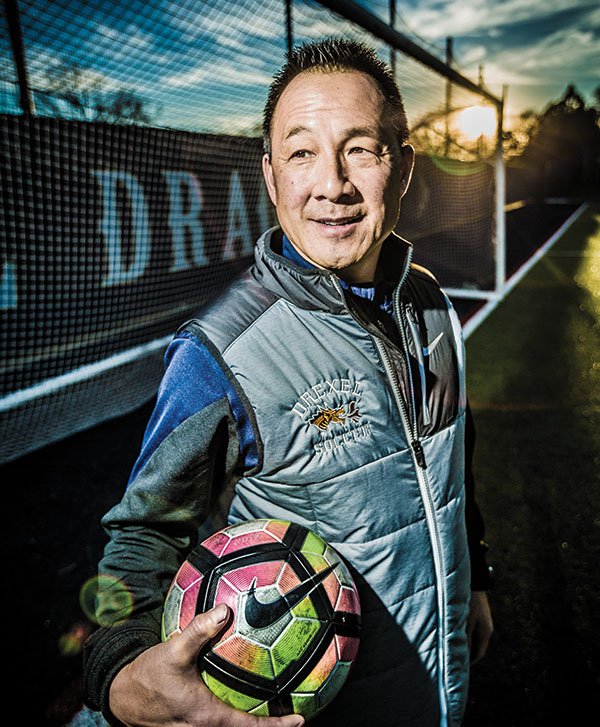 The father of women's soccer at Drexel is seeing his team come of age as it hovers within reach of a tournament title.
By Mike Unger
The history of Drexel women's soccer starts — and stops — with Ray Goon.
Last season was one of the most impressive for both the program and its founding father. The Dragons reached their first-ever conference tournament title game, and Goon was named Colonial Athletic Association Coach of the Year for the second time in his 20-year career.
"It was a breakthrough, absolutely," says Goon, who has led the program for all of its existence, except for a single year in the early 1990s. "You can talk about winning championships, but until you get there and go through it, you don't know."
Drexel fell short of its ultimate goal, losing to Northeastern in the CAA final. But along the way it racked up nine victories, including its first-ever postseason one, a 2-0 win over James Madison in the semifinals. While the way the storybook season ended certainly stung, Goon is confident that the final chapter is not yet written.
"You're 90 minutes away from winning a championship, so there's certainly that bit of playoff hangover that lingers," he says. "In a good sense it helps drive them right now in terms of preparing for next season. They saw the hardships you have to overcome to get there. In that way I think that it was a good experience for them."
Experience is an attribute of which Goon has boatloads. When Drexel established its women's soccer program two decades ago, it turned to the successful coach from crosstown Philadelphia University to lead it. Goon had posted a 28-9-2 record from 1994–95, and was a soccer lifer. A New Jersey native, he began playing the sport around age 7, following in the footsteps of two older brothers. He went on to play collegiately at Rutgers, where he was a member of the Scarlet Knights' 1983 team that went undefeated during the regular season. With few pro opportunities available in the United States back then, coaching seemed a natural progression.
At Drexel, he was afforded the rare opportunity to assemble a program from scratch.
"The good thing was, it was a strong academic institution. You didn't have to sell the school at all," he says. "We really had to emphasize the teaching aspects. I told the players, 'I'm going to give you the opportunity, but what you do with that opportunity is up to you.'"
They've done it. Drexel has qualified for the postseason conference tournament three of the past five seasons. Goon coached CAA Defensive Player of the Year Eve Badana in 2012, and Rookie of the Year Vanessa Kara in 2015, and last season, goalkeeper Christiana Ogunsami won Co-Defensive Player of the Year honors.
"I've never met a coach who is so invested in the mental side of the game," says junior midfielder Madison Dunn, whom Goon cites as a team leader. "He really opens up your mind and wants you to know the game and not just play it."
Molding young minds is as important to Goon as developing athletes. Last season, 21 of his 26 players received the CAA Commissioner's Academic Award, and 11 made the Dean's List. Overall, the team posted a 3.45 overall GPA for the fall term.
Goon is hoping those accomplishments translate from the classroom to the field. Next year, the Dragons won't be satisfied simply making it back to the CAA final.
"They got a taste of it, and they've got the fever now," he says. "A lot of the momentum comes from within now. I can see it in our players' offseason training."
After so many years at the helm, Goon is more excited than ever for what the future holds.
"It doesn't feel like 20 years in some respects, and in others it does when you look at the transformation of not just the University but our soccer program," he says. "But yeah, it goes quick."