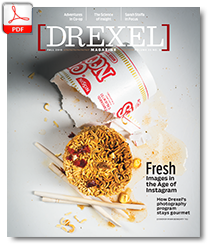 Praise from the Pacific
I just went through the summer issue of the magazine (pdf version). It is a gorgeous issue! I just subscribed. I'm an alum who lives in San Francisco, so this was a nice way to learn what is happening on campus. Thanks.
Shruthi Worton-Cross
BS/MBS business
administration, '06/'09
Mountain View, California
Milk Memento
To the "Dragons" who remember Abbotts Dairies, next door on Chestnut Street: I am a Drexel graduate, 92 years old, and I lived in Drexel Hill, Pennsylvania. My first position when I graduated from Drexel was as dietitian at Bryn Mawr Hospital and three years later I was employed by Abbotts Dairies as program director for the ice cream division. What a fabulous position! I've kept all these years an Abbotts glass milk bottle from 1925 when milk was delivered in glass bottles to our door. Was there any historical value to it? I called Drexel's Alumni Relations office for advice and I was directed to the Philadelphia History Museum — the history museum now owns the Abbotts glass bottle and it's in their database.
Doris Bedrossian Bobb,
BS home economics '46
Houston, Texas
*Send letters to the editor to magazine@drexel.edu.
Share Your Memories
This year, Drexel will mark the anniversary of the University's 125th year since its founding with special archival coverage about Drexel as it once was, and we'd love to hear what it was like when you were a student. Share your recollections at magazine@drexel.edu.